THE PREAMBLE
I am a simple man.
I like my steak bloody, my wife in various forms of undress and my beer alcoholic. With the big "40" bearing down on me like some sort of hellbound death train, the things in life that I actually really need have rapidly condensed down to a bare-knuckled, five-point list of bugger all. These days, consistency is key. Steak. Wife. Beer. With those three elements firmly in check – "hi honey… love you" – there are two final rusted sprockets required in the grinding gear set of middle-aged mediocrity that is fast becoming my life.
Number four is the ritualistic viewing of the chest-beating, testosterone inducing, primal blood-lust that is competitive sport. Is there any better forum for a man such as myself – well beyond his hackish athletic prime – to simultaneously live vicariously through and verbally abuse much younger men with far superior athletic prowess than most of us will ever possess? I think not.
Number five, and perhaps most crucial to the preservation of my sanity, is the daily requirement of a high voltage blast of everything louder than everything else, teeth-shattering, neighbour-hating rock and motherfucking roll.
These five elements, served at a minimum of thrice weekly, are all this man really needs.
So it came as no surprise to me, or my beautiful wife, one night that I found myself laying on a Peruvian hotel room bed – after a chest pain inducing steak dinner –  drinking a beer, watching the epically theatrical shenanigans of the Real Madrid versus Barcelona game while blasting the crap out of my tinnitus-riddled ears with The Stooges Fun House album on my ipod.
After the match, after another Sergio Ramos red card, after the lingering echoes of the final notes of The Stooges "LA Blues" had subsided, I got to thinking about the upcoming FIFA World Cup and how fucking annoying Iggy Pop would be as a soccer player? I mean, think about it. He would be so in your face that you would want to pull a Zinedine Zidane headbutt on him. Then I got to thinking – How much fun would it be to select an all-star punk rock world cup squad?
So, if you will, forgive my indulgence please, as I attempt to undertake this amusingly futile task, the super important selection of the all-time greatest Punk Rock World Cup squad.
THE TEAM
MANAGER: Malcolm McLaren
For some reason, in imaginary scenarios such as the selection process of this team of degenerative misfits, the obvious choice is quite often an unpopular choice. In this case, Malcolm McLaren´s selection as manager is obvious for obvious reasons. I mean this is the guy that assembled three semi-competent musicians and a guy who sort of sings, dressed them up in garbage bags and safety pins, called them the Sex Pistols, convinced the world that they are complete arseholes who couldn't play their instruments, and then proceeded to convince the world to buy their records anyway. And it worked! Brilliant.
This alone makes the impresario a tactical genius. Ruthless, cunning, risk-taking, with a touch of the King Midas coursing through his veins. He also has the innate ability to squeeze the absolute most out of any talentless playing group (Bow Wow Wow). Don´t mess with the man though, he will cut you down and hang you out to dry so damn pronto that you will be left wishing it was just a football boot he threw at your head ala Sir Alex Ferguson.
Having said all this, expect a player revolt after a short while. McLaren loves to rub people up the wrong way, rendering him perhaps only effective as a short-term manager. Perfect for a one-off world cup campaign. And as a clothing designer, he can even supply the team kit.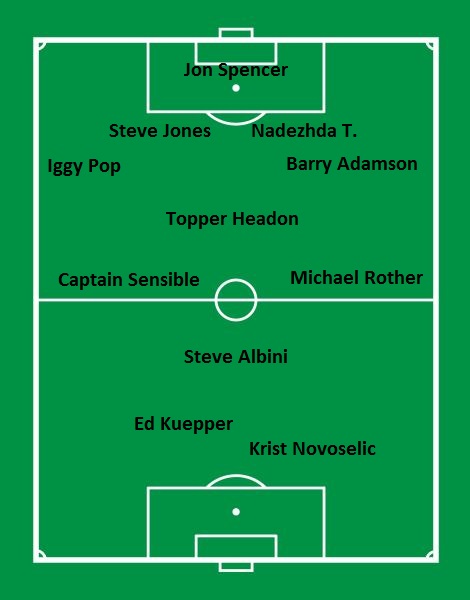 GOALKEEPER: Jon Spencer
Watch Jon Spencer performing on stage and you will soon understand why he is perfect goalie material. The flamboyantly twitchy Blues Explosion/Heavy Trash/Boss Hogg/Pussy Galore frontman´s stage demeanour is that of a man with serious jock-itch coupled with a chronic dictator complex. Conjuring images of a PCP-addled love child of Manchester United legend Peter Schmeichel and Paraguayan extrovert and all-round loudmouth Jose Luis Chilavert, Spencer is rarely silent and rarely stationary. He is an all jumping, all pointing, all yelling harsh taskmaster, constantly dictating rhythm, timing and structure to his band. Defenders lookout, you will cop an earful. Spencer is also a sharp orchestrator. Look at how he conducts and cajoles his theremin manically, yet expertly, coaxing sounds from his instrument that would make inventor Leon Theremin proud.
The ladies love him too. Perhaps Mr. January in the Punk Rock World Cup Calender? Every team needs sex appeal.
LEFT BACK: Barry Adamson
For some reason, whenever I think of avant-funkster Barry Adamson and relate him to soccer (which is almost never) I think of England and Chelsea superstar Ashley Cole. Both are smooth. Silky smooth. Both have sensual rhythm, elegance, grace and soul. As a bass player, the former Magazine/Bad Seeds member is also the perfect team player. As a solo vocalist, he has a natural ability to individualize and carry the load when need be. Like Cole, Adamson has the instinctive ability to think and act quickly. From punk to soul to funk to swing to scat and improvisation all in one song. Also like Cole, he is happy to sit back for as long as it takes, to blend into the background, like a good bass player does. He defends because that is his main job. However, as Ashley Cole has done for over a decade with England, Chelsea and Arsenal before that, Adamson clearly loves to score. Just listen to any one of his many solo albums that he has released over the past 20 years. Here's a classic slice of Adamson musical porn just for you.
CENTRE-BACK: Steve Jones
Former Arsenal champion Tony Adams comes to mind here. Stoic, bullocking, uncompromising, loyal, loves a beer. All the essential qualities that Sex Pistol Steve Jones possesses too. A working class lad´s lad, Jones is a no frills, just get the bloody job done type of guy. If you were in the playground at primary school and you had to pick teams for an impromptu kickabout, old Stevo would be the first guy you picked. Why? Because he´s a bloody good, honest bloke. And despite what Malcolm McLaren preaches to anybody outside the inner sanctum, he can actually play.
These qualities make Jones the quintessential central defender. He is glue. He holds it all together. Also, he is the only Sex Pistol to have gotten along well with manager Malcolm McLaren. This makes him the perfect manager´s pet and conduit to the players.
Jon Spencer will also be happy – one less man to dictate to.
CENTRE-BACK: Nadezhda Tolokonnikova
Two years ago a friend of mine mentioned Pussy Riot to me. I thought this meant we were going to the porn theatre. Of course we now know Pussy Riot to be that utterly fearless collective of anti-Putinist Russian politico-feminist punk rockers who stage "unauthorized provocative guerilla performances."
Nadezhda Tolokonnikova is a key and integral member of this collective. Convicted in 2012 of "hooliganism motivated by religious hatred" for her performance in a Moscow church of "A Punk Prayer" where she implored the Virgin Mary to "put Putin away", Tolokonnikova was then publicly horsewhipped by Cossacks and jailed for two years.
In a nutshell, this is no token female selection. This fearless warrior easily makes the starting squad and slots straight into the crucial centre-back position. Nadya, as her teammates call her, will stand up to anything. Fiercely loyal to the cause, she will scrap to the death, striking fear into her opponents along the way. Where political leaders the world over are deafening in their spineless inability to stand up to Vladimir Putin, this single mother takes their place as the voice of many citizens of the world.
Tolokonnikova has had to endure a lifetime of defending herself, thus making her a natural central defender able to withstand any barrage coming her way. Plus she is current, relevant and modern. This is refreshing in a team of old school misogynists and her inclusion may just keep some egos in check.
RIGHT BACK: Iggy Pop
Who else? This motherfucker will run all day and annoy the living shit out of any opposition team member as well as some of his own teammates. There is no comparison to this man. Like a loco mosquito he will bounce from flank to penalty box to opposing flank, attack, defence, attack, penalty box and on it goes for ninety minutes. Diagnosed as a hyperactive child (aka Attention Deficit Disorder today), the Iguana is also a fantastic sledger and is so in your face that the other team may actually not want to turn up.
There is a definite team harmony and intimate player knowledge advantage here too. Iggy Pop and central defender Steve Jones know each other's game inside out as Jones was a long time guitarist for the man.
You only have to see his interview with Molly Meldrum and performance of "I'm Bored" on Countdown to fully appreciate why he is in the selected side.
LEFT MIDFIELD: Michael Rother
Some German efficiency is required here and there is no one on this planet more efficient than the Kaiser of Krautrock, the King of kosmiche, the emperor of electronica Michael Rother. Whilst technically not a punk rocker, the Kraftwerk/Neu!/Harmonia/Cluster wizard has had a huge influence on punk rock over the years and thus is thoroughly respected by one and all. This qualifies him.
As one of the more successful world cup nations, Germans have football in their blood. Rother is no exception… I assume. Rother is the messiah of minimalism. Listen to anything he has released ever and you'll understand how ball overuse is a definite no-no. Precision is the key and Rother has oodles of it. A clear thinker with a clever and innovative mind, Rother is clearly a master of his domain.  Like his German counterpart, 1990 World Cup winning captain Lothar Matthaus, Rother´s versatility and grace makes him a perfect midfield fit with a keen eye for any attacking opportunity, a flair for goal and serious defensive sensibilities.
Listen to Neu!´s "E-Musik". All will be explained.
CENTRAL MIDFIELD (DEFENSIVE): Topper Headon
U.S. football in the mid-nineties to the early noughties was a flourishing for one main reason. Claudio Reyna. The hall of famer was a rock in defensive midfield and also the team´s pulse and drive as he set up countless attacks with his unique vision and precision passing.
Topper Headon, drummer extraordinaire with The Clash was his band´s rock. He was British punk´s rhythm king. A human metronome.
Picture in your mind the human heart. It is a vital organ, the body´s delivery system, providing continuous flow and circulation via a rhythmic and steady succession of vital pulses. All avenues point to the heart. Everything goes through it.
Like Claudio Reyna, this is Topper Headon´s job. The team´s delivery system. And he does it bloody well. Without a hint of ego he reliably goes about his job transforming defence into attack, dictating the rhythm of the game to suit his team. Like the human heart, he will slow things down to a snail's pace if deemed necessary, but when it´s time for action…lookout! It´s all systems go.
CENTRAL MIDFIELD (OFFENSIVE) Steve Albini
Albini once chastised a Big Black concertgoer for daring to complain about being crushed against the stage by a wave of angry, nerdy moshers with the line – "You can't breathe? Well some people can't see asshole."
A man with that kind of moxy is a vulnerable opponent's nightmare and Albini's notorious opinionations alone render him an automatic selection as an offensive –in more ways than one- midfielder.
There are many more strings to the Steve Albini bow however. The calculus king of math rock, analog engineer, producer and all round loud mouth was once charged by Kurt Cobain to restore Nirvana's noise mojo on In Utero after the somewhat lamely slick production of FM radio staple Nevermind. Albini succeeded –listen to master tape outtakes from the In Utero sessions. However, the record company executives slickened up the production, behind the backs of Kurt and Steve, producing another ho-hum type recording. This made Cobain sad. But it made Albini angry.
And he still maintains the rage to this day. The Big Black/Rapeman/Shellac frontman loves a confrontation and he relishes attack. His abrasively angular guitar riffs show a distinct flair for originality, creativity and an ability to break down any defence. Just imagine how devastatingly sharp and angular his passes into the box would be.
Albini can be a match winner. Much like French legend Zinedine Zidane, he is the engineering maestro of the midfield. Unfortunately his temper is as bad as our headbutt happy Frenchman. For the punk rock World Cup team to succeed, Albini will have to try to focus his anger on the ball, not the man.
RIGHT MIDFIELD: Captain Sensible
Flamboyant. Colourful. Frantic. Cocky. Fast. There aren't enough superlatives in any language to adequately describe The Damned's Raymond Burns – a.k.a. Captain Sensible. His guitar playing possesses the shamelessly, attacking gall of Bayern Munich's Franck Ribery with the speed and sublimely arty skills of Dutch legend Marc Overmars. Transfer these skills to the pitch and expect an endless barrage of passes, crosses and some seriously penetrating runs into the box too.
Captain Sensible, the third greatest name in rock 'n' roll behind Top Dollar from Endless Boogie and Rock Action from The Stooges Rock, is the bearer of an innovative and mossy mind too. This is the guy who introduced 1960s psych into the hippy hating world of English punk rock. And the pimply, garbage bag wearing punks lapped it up too.
A sure fan favourite.
FORWARD (Striker): Ed Kuepper
I remember watching the opening game of the 2002 World Cup in Japan/South Korea between then world champions France and minnows Senegal. I was thrilled to see Senegal win the match 1-0 courtesy of a poacher's goal by then unknown Papa Bouba Diop. Senegal then became my, and probably everyone else's, adopted team. As the campaign continued, I found myself unable to take my eye off the country's boom striker El Hadji Diouf. His skills were sublime, he was aggressive, superfast and had such a trigger happy philosophy when it came to shooting on goal that he threatened to dominate the entire World Cup. But he never did. Spectacular for brief period but in the end a bit of a fizzle.
Now no disrespect to Ed Kuepper at all, I love the man, but many comparisons can be drawn between the two. Listen to The Saints first two albums (I'm) Stranded and Eternally Yours and a more explosive display of frenetic punk guitar and energy you will not hear. It's blistering – pay particular close attention to the final track from (I'm) Stranded, "Nights In Venice". Wow!
The Saints, while still ok, kind of mellowed out. They were spectacular for a brief period but in the end a bit of a fizzle, just like our friend, El Hadji.
Having said all that, now let me say this. Ed Kuepper would be an excellent striker. All out attack, shock and awe, trigger happy entertainment all the way. A bit of Aussie grunt never went astray either.
He may even score occasionally too.
CENTRE FORWARD: Krist Novoselic
This is more a tactical selection than anything else. Giraffish Nirvana bassist Novoselic graduated straight from the Peter Crouch University of bambi-like awkwardness and comically effective goal-scoring. I was fortunate enough and old enough to have seen Nirvana play live in Melbourne in 1992. And when I did, I don't actually remember watching Kurt Cobain or Dave Grohl too much. No, my eyes were firmly transfixed on the Lurch-like figure on bass, lunging clumsily with every beat, thrusting and heaving as if dry-wretching, jumping as if going for that imaginary header.
Tactically, as opposed to Kuepper, Novoselic slots in as a more traditional centre forward, able to use his excessive height to tower over defensive opponents and head a few away. With what he misses, Ed Kuepper is right there at his feet, ready to pounce. And he will.
It may not be pretty, he may be the butt of many opposition supporter jokes, but dammit it's effective. Move over Crouchy, there's a new praying mantis in town.
SUPER SUB: GG Allin
Put yourself in manager Malcolm McLaren's shoes for a moment. Your team is down to eight men, it's the 86th minute, you are down 6-0, you are about to be unceremoniously dumped from the World Cup and all you want to do is fuck shit up a little. What do you do?
Enter fecalpheliac GG Allin. Born Jesus Christ Allin (yes, it's true), Allin is the splatter king of shock punk. I'm not going to mention any of the names of the bands he was in or the songs he has written here (Google him if you dare, just not while you are eating) but needless to say this is one messed up, scary individual. Allin was notorious for flinging his own feces at the crowd during his live shows, urinating on his band members, masturbating and injecting drugs on stage as well as jumping into the crowd and punching the living suitcases out of anyone in arms reach.
Needless to say, Allin is the team's wildcard and is never to be bought on if the team is in a winning position. But if you want to go out of the tournament with a bang by severely maiming several opponents then GG is your guy.
If all else fails then I guess he can just throw his feces at the referee, something I'm sure you've all thought about doing at one time or another.