The 2011 season had been a disaster. In fact, so had the previous three.
The club's senior team had now been relegated four seasons in a row, going from the highest level of senior football in Victoria, the Victorian Premier League, down through the ranks to the state's fifth tier, Provisional League 1.
Provisional: arranged or existing for the present, possibly to be changed later. Frankston Pines was existing for the present, possibly to be changed later.
Close to bankruptcy, its playing stocks depleted and morale at an all-time low, the death knell was ringing for the club founded by a band of British migrants in 1965 and based in the tough, working-class part of Frankston known commonly as the Pines.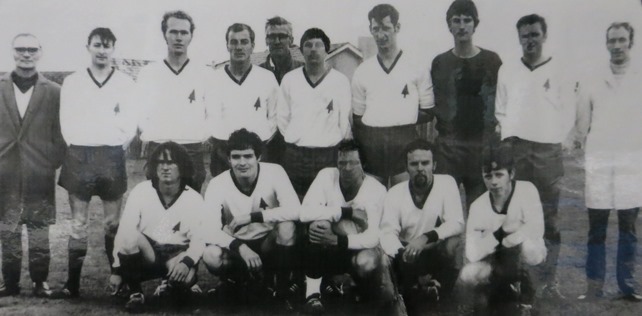 Local rivals had little sympathy for the club's plight. After all, Pines had been the most successful senior club in the Mornington Peninsula region. It was a club with a reputation for playing hard.
When Gary Hodgson took over as president in 2011 he was looking at the very real prospect of closing the doors at the club, with some talk of selling whatever assets the club had, such as the clubrooms, to an interested party, including a local football academy. But Hodgson, whose two sons play for the club's seniors, had other ideas.
"The Pines, as you learn after a while, it's the 'us against them'. Everyone hates the Pines – which we love. Everyone knows the Pines, everyone's played for the Pines, everyone's played against the Pines, been to the Pines. It's always been 'us against them'," Hodgson tells Shoot Farken.
Hodgson and his wife Phillipa (Pip) followed their two boys to the Pines in 2009 from another local club, Langwarrin, where the boys had played since they were juniors. First team opportunities were sparse for youngsters CJ and Matthew at Langwarrin, an ambitious local club who had moved up through the ranks while the Pines slid down.
"That's the reason why we came across to Pines because you follow your family. Now the Pines is our family."
Hodgson says the decline of the Pines was duly noted at Langwarrin.
"When I was at Langwarrin and the big fallout happened at the Pines everyone laughed and said, that's the end of the Pines, they're finished. We [Langwarrin] got their captain, their vice-captain, one of their main defenders; I think Langwarrin picked up three or four of their top quality players. Everyone thought the Pines were gone."
The club had four presidents in the space of two years, as well as a few coaches. Players and sponsors were deserting the club and debts had been accumulated. Two years after his sons had switched clubs, Hodgson was now at the helm of a sinking ship.
"I took over after an AGM for the last match. I think basically with a new committee, fresh blood, and a bit of an idea looking forward, we all put our heads down and decided it could happen."
Pines finished last in State League 3 South-East that season and were relegated to Provisional League 1. The last time the Pines were in the lowly depths of the Provisional Leagues was back in 1978.
"We started off with four people on the committee. We had a meeting here one night, a sort of a semi-AGM and we had two players, four people, and we said, 'What are we doing? We might as well close the doors.' So I went home that night and it was probably the start of my four years of restless nights sleeping. I woke up next morning, well woke up…more like staggered around the next morning and phoned everyone and said 'Get your arse round here tonight, we're having another meeting'. And I said, 'My name is not going to be the last name on that board [pointing at the presidents' board on the wall], we are going to make this work'."
The two teams emerge from the players' race, State League 1 team Frankston Pines wearing their traditional sky blue shirts and navy shorts and NPL club Avondale in their away strip of yellow tops, white shorts and blue socks, looking a tad like the long defunct Frankston City. Avondale's newest signing, former Brisbane Roar and Melbourne City A-League midfielder Massimo Murdocca, is involved in his first competitive match since sitting on the bench for Melbourne City against A-League champions Melbourne Victory in the A-League semi-final about a month ago. That match was played in front of 50,873 fans at Etihad Stadium. The attendance for this FFA Cup Round 6 match at Monterey Reserve, Frankston North, is about 200 people. At 2pm kick-off, according to the Bureau of Meteorology, the actual temperature is 13C, but the Steadman Apparent Temperature (what it feels like) is 3.8C with northerly wind gusts of 57 km/h. The sun is shining though.
Grand Final glory to debts and doubts
In 2003, Frankston Pines went ever so close to becoming the first club from the Mornington Peninsula since Flinders Naval Depot in 1928 to win Victoria's top flight football championship.
Frankston City – a club which ceased to exist in 1983 – also went close in 1979, pipped at the post on goal difference by Essendon Croatia (now known as Melbourne Knights). Pines had also finished runners-up in the top tier in 1986 (then simply known as the Victorian State League), five points behind Croydon City. Top flight success is rare for clubs that hail from Frankston and the Peninsula hinterland beyond.
That glorious 2003 season saw Stan Webster coach newly promoted Pines to 4th in the league and then scrap through two finals matches before succumbing 1-0 in the Grand Final to that warhorse club of Victorian football, Green Gully.
It's fair to say the Sky Blues are the Mornington Peninsula's most successful senior football club. Other than Frankston City, no other club from the area has played at the top level of Victorian football post WW2 and the current Victorian NPL (National Premier Leagues) set-up features no clubs from the region.
Victoria's premier league has always been arguably one of the two strongest state competitions in Australia, along with NSW, and it has mainly been dominated by ethnic-backed clubs, with most based in the migrant-rich northern and western suburbs of Melbourne.
The Mornington Peninsula is football-mad, but of the Australian Rules variety. Three greats of the sport were born and bred in Frankston: Hawthorn legend Dermott Brereton; two-time Brownlow medallist Robert Harvey; and Pines boy and St Kilda stalwart Nathan Burke. This has meant that football (soccer) clubs in the area like the Pines have often struggled to attract as many youngsters to play the game as what clubs in Melbourne's northern and western suburbs would. The depth of talent and culture is shallow.
Neither the numbers nor the culture is there when compared to the abundant riches on the other side of Melbourne. Victoria's top division, the PS4 NPL, features eight clubs out of 14 from the northern and western suburbs. The closest PS4 NPL club to Frankston is Dandenong Thunder, a 15-minute drive up Frankston-Dandenong Rd from the Pines, but a world away culturally.
The general indifference to the sport in the area has often extended to dealings with Frankston Council, according to former Pines president and lifetime member Alan Hodkinson.
"The council is pro-AFL and pro-cricket. They treat soccer as a minor third or fourth placed sport. And you can tell that with all the meetings we've had with them and how they look after each pitch. Go and have a look at all the AFL grounds and all the soccer grounds around here and you'll see the total difference," says Hodkinson, who was president of the club during one of its golden eras from 1996 to 2006.
He says attracting sponsors to the club has also been difficult in the past because of the strong competition from not only other football clubs like Langwarrin, Peninsula Strikers and Mornington in the area, but especially the big Aussie Rules clubs such as Frankston Pines, Frankston YCW and VFL team Frankston Dolphins.
"If you had to rely on sponsorship alone you'd go broke," Hodkinson says.
While president Gary Hodgson agrees with Hodkinson that Aussie Rules still rules the roost in the region, he thinks attitudes are changing among decision-makers because of football's growing popularity as a junior sport.
"It's got to change with the amount of kids playing the game. They've realised they've got no options. They have to start pushing something into it because more kids are playing now than what they are the AFL," says Hodgson, who played Aussie Rules in his younger days.
Despite Frankston Council's past perceived indifference towards football, it did stump up $100,000 to refurbish the club's dilapidated old stand in 2012, which was an early win for Hodgson as a new president. The club owed the council $14,000 at the time, a debt acquired by previous committees, which it is still paying off. No new debt to the council has been acquired by the club under the watch of Hodgson, his vice president Steve Spencer and club treasurer Pip Hodgson.
Veteran local football journalist Craig MacKenzie, writing his Mornington Peninsula wrap for the Football Federation Victoria website, reported that the club's debt when Hodgson took over was crippling: "Its large five-figure debt was no secret and its reputation on and off the field was in tatters."
Hodgson wouldn't put a figure on the size of the debt, but did confirm it was substantial.
"The original debt we inherited was large; we had to pay off old strips, coaches payments, lights. Plenty of people came chasing money. The only debt our club now carries is to the council owed by the previous committee, all else has been sorted."
The first 15 minutes have whizzed by, both sets of players probably compelled to stay warm by staying busy. Pines are holding their own and making life uncomfortable for the team from Melbourne's north-western suburbs, who as recently as 2009 were playing in Provisional League 2 and have earned five promotions in the past six seasons. The Pines accomplished that same feat when they also won promotion five times in six seasons to go from Provisional League 1 in 1978 all the way up to the Victorian State League in 1984. (The State League being the name of the top tier league at the time.) Avondale's players show some cultured touches on the ball, but are finding it difficult to get into rhythm. Murdocca is busy in the centre of the park, but more than matched for his industry by Pines No 7 Grant Lane. Avondale look skilled but tentative, while the home team look raw and hungry. Pines left winger Bradley Blumenthal is already causing problems for Avondale's right fullback. Pines coach Danny Verdun, maybe showing a touch of his Uruguayan defensive wiles, has set Pines up in a Mourinho-style 4-5-1, holding tight between the lines and pressing Avondale's players at every opportunity. Avondale's gun striker Alex Khrapko is looking dangerous on the ball, but the service hasn't been there yet.
Frankston battlers
Melbourne people look down their noses at Frankston; Frankston people look down their noses at the Pines.
The suburb of Frankston North used to be known as Pines Forest. The bulk of the suburb was a Housing Commission estate established in the early 1960s on the cleared site of an old pine forest plantation. The Frankston Pines home ground, Monterey Reserve, was established on land released by the Housing Commission.
The suburb garnered a bad reputation in the 1970s and '80s. Even today, the suburb struggles to shake off prejudice and misconceptions. Drugs such as ice are a problem in the area, with rates of violent crime in the suburb higher than for neighbouring areas.
Frankston North has a median weekly household income of $760, which places it among the five poorest suburbs across Victoria. It's a tough area that breeds hard characters.
"It's always been pretty much known as a low income area… The old story of the Pines is the Pines has always had the reputation of being not a very nice area. A bit like in the dim, dark ages where I was born and bred in Doveton that you had that stigma about the name, the stigma's still there. Everyone hates the Pines. Which, as I say, that's what we thrive on," Hodgson says.
The 'us against them' mentality is strong at the club. While other clubs around Melbourne have differentiated themselves often along ethnic lines, the main point of identity for Frankston Pines has been its working-class roots – it was established as a working-man's club and it has survived for 50 years in a part of town to which many Frankston residents dare not venture. The reputation may be unfair, but it has fuelled the sporting success of both the Pines football clubs – Aussie Rules and soccer.
Hodkinson, who has been with the club right from the start, playing U12s in 1965, says the sporting field is an excellent leveller: "As I said to the mayor of Frankston once, we might not be able to match any of the teams financially or socially; put them on a sporting field and we'll kick your arse. And that's how we are."
Hodkinson is also proud of the fact it owns its club rooms outright. The rooms were first built in 1972, with extensions added in 1980. Financial and labour contributions came from local tradesmen and labourers, many of them recent Scottish immigrants working on the construction of the Lysaghts (later BHP/BlueScope Steel) steel plant in Hastings.
"As Hoggo [Hodkinson] said, all this was built by the members, nothing to do with the council giving us facilities. This was built by members. It still needs a bit of work; the change rooms need to grow, eventually we'll have the money to do that. It all comes down to, unfortunately, the mighty dollar," Hodgson says.
Both teams have settled in as well as could be expected in the blustery conditions. The Pines defence has been rock-solid apart from two occasions. At around the 21st minute mark, Avondale swing a corner in from the left and Pines keeper Kris McEvoy flaps at it like a bird with a broken wing, the ball drops into a melee of yellow and sky blue shirts before Pines are able to clear the ball up field. This is not a great day to be a goalkeeper. Then in the 39th minute, Avondale striker Daniel Slovacek fluffs his lines and miscues from near the penalty spot with really only the Pines keeper to beat. Pines have not had any clear cut chances but have exploited the pace of wingers Blumenthal and CJ Hodgson to get in behind Avondale's defence. Only the final killer ball is missing.
The ref blows his whistle for half-time. Time to get in from the cold and have a quick beer at the bar. The function room is festooned with sky and navy blue decorations in readiness for tonight's dinner dance celebrating the club's 50th anniversary. The walls are covered with photos, memorabilia and team tops, including the fantastic Coventry City-style jersey worn by the club in the 70s and early 80s. Treasurer and club committee member Pip Hodgson is still busily getting last minute details fixed for tonight. It's been a big week for the club and, win or lose, it promises to be a memorable night as well.
It's all about respect
Hodgson says as part of the fresh start for the club when he became president, he didn't want a coach who had a history with the club. He wanted a fresh set of eyes in the place: "We were new, so I wanted someone who was new."
"The best decision I ever made was in hiring Danny Verdun. Danny came with the same ideas and concepts as what Pip and myself have. We knew which way we wanted to go and Danny fitted exactly into that mould.
"It's all good fun but you don't take crap – which is the attitude we finally got through to the players. Our first night that Danny was here for the pre-season we were lucky to have six players."
Danny Verdun arrived in Australia as a 10-year-old from Uruguay with football in his blood. His family settled in the western Sydney suburb of Blacktown, where his love for the game continued to blossom.
He came to Melbourne 17 years ago, settling in the outer eastern suburbs. Verdun went into juniors coaching when his sons started playing with Knox City. He had considerable success with junior teams there and eventually took over as the senior coach at the club for three years before leaving the post during the 2009 season.
"I got this call late November 2011: would you be interested to come in and talk? So I came in, parked the car, walked in, met Gary [Hodgson] and [vice president] Steve Spencer and I don't think many people applied for the job," Verdun says.
"I ended up getting the role and then I started to look at team management, who I was going to get my manager to be. But we turned up for that first pre-season session in December and we had six players here. That's all we had. I had to call on then my ex long-time stalwart from Knox, Anthony Edgar, then I brought in Craig Kerr from Knox, the two boys, Nick Giannopoulos and Michael Hoogendyk, and I started to recruit players who I knew, and that's where it all started from."
Verdun's tenure began with four losses in his first five games. Hodgson's punt on fresh blood looked like it was hemorrhaging. The club had barely been able to scratch together a team to play pre-season friendlies. The scant preparation showed on the field. Verdun knew he had a job on his hands.
"Everyone thought, OK, here we go again, Pines are going down again," he says.
One of the reasons Hodgson and the committee kept faith with Verdun was because Hodgson had seen Verdun's work at Knox and knew he could create a team with the right attitude.
"Provi [Provisional] league was the year that I took over. Hard to get quality players to play that low. As I said, Danny could attract the quality players that wanted to play for Danny," Hodgson says.
Verdun also had some perspective on the culture of the club, the 'us against them' mentality. The surroundings reminded him a lot of where he grew up.
"I understand because I grew up in one (housing commission area). My parents still live in housing commission in Blacktown in Sydney. That's where I'm from. I grew up in Blacktown. I went to school at Rooty Hill High, so if you watched that Struggle Street show, I've been brought up with that, so I understand it and I can live with it and I respect it.
"A lot of people don't respect it, and that's the key thing. Whatever you come from, you just respect it. And a lot of teams come here and don't show us any respect. They don't show us respect and we think, OK, that's fine, we'll play, we'll go at them, just be respectful.
"That's why we've been so successful. All these guys [Danny's players] think the same. I've got them to understand you've got to respect the game first and foremost, forget anything else. If you don't respect the game, you might as well get out of it.
"That's the key thing: respect. I respect the people, I respect the club, and I respect the work that Gary, Pip, Steve and the people here do."
After that initial rough patch, the Pines would lose only one more game for the rest of the season (an aberrant 6-0 loss to Mooroolbark). Verdun's first season in charge ended with the team finishing second, behind Warragul United, and winning promotion.
Avondale coach Anthony Barbieri must have put some pepper in the smelling salts at half-time because his team have come out with more verve than when they went in. It's still early days, football's a game of two halves, kick it out if in doubt, anything can happen in a cup tie and whatever other cliches you can throw at this angry wind all apply. The pattern of the first half has resumed. Verdun's well-drilled Pines is holding its shape, marshaled by centre-backs Michael Hoogendyk and Enis Sivic, and counter-attacking with speed. Barbieri's side tries to move the ball around in an attempt to draw the Pines out and expose gaps for Khrapko, Koca and Slovacek to slip into. But the Pines are having none of that, thank you very much. Big Pines spearhead Mathew "Hammer" Hames, who came on for the injured Ioasa Saemo at the 12th minute mark, is continuing to cause problems for Avondale's centre-backs, holding the ball up and laying it off for Lane, Blumenthal and CJ Hodgson, who are all making runs from deep-lying positions.
Dreaming of the NPL
Another team from the Peninsula, Mornington, look like they will run away with the State League 1 South-East title this year. But they won't be getting promoted. Neither would the Pines if they finished high enough on the ladder. In one of the recent periodical shake-ups that football governing bodies in Australia are so fond of conducting, the Victorian leagues have been split into an "elite" group of National Premier Leagues clubs that make up the two top tiers of the sport in the state: the PS4 NPL and then PS4 NPL 1 East and West divisions the next tier down. After that comes the State Leagues, from 1 to 5, all divided into geographical regions.
The idea behind the NPL is to develop a group of strong clubs beneath the A-League that will act as incubators, providing a pathway through talent identification and qualified coaching for young players to reach the top, or at least fulfil their potential. Many big Melbourne clubs were against the NPL concept, with clubs like South Melbourne Hellas and Melbourne Knights arguing it was a dictatorial attempt by the FFA and FFV to impose a system that took power away from the clubs.
One of the biggest bones of contention has been the issue of promotion and relegation, which has been suspended between the NPL and the State League for the next three years. Clubs can apply for a licence to the NPL, but must meet a set of criteria including a certain number of juniors and women's teams. The Pines is at least a few years away from satisfying those criteria, which means regardless of how well its seniors team performs, it will stay in State League 1.
Former Pines president Alan Hodkinson thinks the idea a team can't be relegated or promoted according to results on the field is "bizarre".
"I don't think it's fair that you can apply for a licence without working your way up. What have you earned? You haven't earned the right to be there?" he says.
"Financially you have," Hodgson says in response.
But Hodkinson remains unconvinced.
"The way they set this up is if you apply for a licence, you get it; you didn't have to win anything. What did Nunawading win in the past three years? Nothing. It's just bizarre. In any other country in the world you'd be laughed at."
[NPL club Nunawading's senior team has finished either last or second last for the past two seasons, but satisfy all other criteria. Nunawading have yet to win a point after 15 matches this season in NPL 1 East and have a goal difference of -52.]
Acquiring an NPL licence is a long-term goal for the Pines, Hodgson says.
"We keep saying that we started off crawling here four years ago, we're now walking, we're nowhere near the running stage. But five years down the track we believe it's either going to be us or Langwarrin that will be the NPL club on the Peninsula," he says.
"There's got to be an NPL club here but as I say, as to whether it will be Langwarrin or us, we know at the moment we can't put our hands up. I believe in five years we will be an NPL club."
But as with almost everything else at the club since he took over in 2011, it's an uphill battle. There's no women's team yet, and only three junior sides.
"This year we've got U8, U11, U18, we had to turn away certain age groups because we just didn't have enough to put a team in and we thought it was pointless to just hold onto four 12-year-olds, let's try and get them into another team, which we did," Hodgson explains.
"By now we probably would've had an U13 or U14 team if we would've kept all these kids. But we look at it as, if we can get them a game somewhere it's better than saying, keep training, hopefully we'll get a team. We're not like that. I mean we all know money makes the world go round, but to screw a kid to get some money out of him, to hold him there and not let him play, there's no benefit in that for anyone.
"As I say, now we definitely would've had an U14 team but we pushed all the kids and got them a home. Next year it could be slightly different. We could be looking at putting another junior team on next year."
The club took a big step forward when it appointed well-respected development coach Billy Rae, who is also coaching the reserves team. Verdun is hopeful Rae's involvement with the club will produce a few more senior players for him to choose from in the next couple of years.
"That's why we brought in Billy Rae from Frankston Strikers last year, to take over our reserves coaching role and our development role with the U18s team so we can try and get players here to eventually be fed through the system into our first team. It's hard to attract young players here because we haven't got 12s, 14s, 16s. All that went four years ago when the club almost folded."
The buzz around the ground is building, belief is growing among the Pines fans. Avondale's bench looks flustered. Pines president Gary Hodgson has a habit of watching matches by himself, away from the crowd. Tall, lean and with a distinguished head of silver hair, put a cowboy hat on him and he'd look like a good guy from an old John Wayne western.
"High plains drifter" Hodgson has taken up a position beneath a tree over by the north-west corner flag, near the scoreboard. Along with the Avondale goalkeeper and the linesman on the other wing from him, he probably has the best vantage point for what happens next.
In the 69th minute Pines break quickly through the inside left channel, Hames flicks a ball into the path of Blumenthal, one of the quickest players on the field. Blumenthal streaks past two Avondale defenders, sprints into the penalty box, rounds the keeper and then, somehow, inexplicably, smashes the ball against the intersection of the post and crossbar from about three metres out; the ball rebounds and he gets a second bite, this time unconvincingly heading the ball into Avondale keeper Frazer Siddall, who deflects the ball away. The Geoff Hurst moment: did it or didn't it go over the line? There is little doubt from Blumenthal, who races away in celebration, little protest from Siddall, and an officious flag point and dash back to the halfway line from the assistant referee. President Hodgson over by the tree doesn't appear to flinch. In fact, if you listen closely enough, the howl of the wind sounds a little like the theme tune from The Good, the Bad and the Ugly.
Almost as if they have heard that public order has been disturbed, a police helicopter circles the ground low overhead, the deep hum of its engines and the sound of police car sirens coming from a street nearby only add to the tension of this cup tie.
Lowly State League Pines are about to pickpocket ambitious NPL club Avondale.
Only minutes later, Hames almost makes it 2-0. The tempo is frantic and full-blooded tackles are being thrown about. Pines skipper Michael Hoogendyk makes a crucial and brilliantly timed sliding tackle to halt a marauding Avondale counter-attack. La Celeste tragic Verdun must have thought he was watching Paolo Montero. It's been a hard-fought and sometimes niggly match, but it has yet to descend into nastiness. By the 80th minute, Barbieri is screaming at his defenders to go route one: "Launch it long." As Sir Alex Ferguson would say, it's "squeaky bum time". Avondale throw everything they have at the Pines but, as has been the case all match, it either gets blown away in the wind or it's not enough to break the Sky Blues.
The referee blows his whistle and Pines fans cheer and clap their boys. Avondale's players look shell-shocked and just a little embarrassed as they leave the field. One-nil and the Pines players, fans and officials will really have something to celebrate at their 50th anniversary dinner-dance tonight.
A few weeks ago when Danny Verdun first spoke to Shoot Farken about the upcoming cup tie against Avondale he used one of his signature words: respect. This was after the Pines had beaten Morwell Pegasus in the previous round.
"We respect them, they're NPL. But it's the same goal posts, same grass, 11 against 11, and it's just a cup tie… the minnows can sometimes get up."
Today as he leaves the field, he looks like a man who has just pulled off an audacious domino trick. There's no smugness, only respect for his players and the work they have put in.
"We didn't have any pre-conceived ideas about the result. The boys defended very well. They kept their structure. It's how we trained and we worked on our shape, shape, shape, let's just keep it nice and simple and if we get an opportunity you've got to take it. You've got to give it to them, they just tried so hard. I'm very proud of them."
Next stop for Pines in the FFA Cup will be the Round 7 match against the most successful club in Australian football history and current Victorian NPL champions, South Melbourne Hellas. There are now eight teams left vying for the four Victorian qualifying spots for the national draw in the Round of 32, when the A-League clubs enter the competition.
After the match, we take down the nets…
The players and officials are all back in the dressing rooms. The Pines fans have got out of the cold and into the club rooms – many of them will head home soon to get dressed up for the big anniversary dinner. The Avondale fans head to the car park, muttering darkly as they get ready for the long drive across town.
Gary Hodgson is taking down the nets with Tommy Mitchell, who has been involved with the club now for more than 40 years. Mitchell has his Melbourne Victory cap and scarf on. When asked who he will support if Pines end up playing Victory in the FFA Cup, he responds as if he has just been asked the daftest question ever: "Pines!"
Hodgson is concentrating on untangling part of the net caught on a hook. He says he's "over the moon" for the boys. When Hodgson started to turn things around at the Pines a couple of years ago, the senior coach at Langwarrin asked him why he had never been involved with the club's committee. Hodgson replied: "No one wanted me, no one asked."
Everybody hates the Pines, except for those who love them.
Photographs by Athas Zafiris. Archival images supplied by Frankston Pines Football Club.