Football, Sport
World Cup Farken: Screw the pseudo-football intellectuals, I'm jumping on the Uruguayan Magic Bus
'I feel stupid and contagious
Here we are now; entertain us'
Kurt Cobain
Fuck, it must be hard. Fuck, it must be so hard staying up to watch a game of football at two in the morning. Make that a cold winter morning. But this is the World Cup and this is Italy versus Uruguay, Balotelli versus Suarez. And don't forget the little bearded maestro in the middle and you promise yourself that one day you will read the Pirlo biography and you will drink his lovely wine and not just from Dan Murphy's but from the cellar door.
And then you make a note to yourself to also read David Peace's book about Bill Shankly, Red or Dead. Yes, it's long and repetitive but it's also supposed to be transcendental. Well, that's what the critics say.
You have made your cup of tea, you sit down and the match begins. But something happens. The football being played on the pitch is not the football of your fervid romantic imagination. It's not Jogo Bonito. It's anti-football. Your delicate football sensibilities are being vandalised.
It's half time. You're angry, you need to get your own back, you take to Twitter.
Meanwhile, I'm at the Arena das Dunas in Natal, watching the very same game, Italy versus Uruguay, and I am sitting in my seat, sipping my Brahma beer, waiting for the the second half to begin. I check my Twitter to see the reaction from the football fans back home in Australia staying up in the middle of the night to watch this Group D death match.
Exchanges like this catch my eye.
Italy and Uruguay currently conspiring to murder football

— M McKenzie-Murray (@feed_the_chooks) June 24, 2014
@reubenacciano aye

— M McKenzie-Murray (@feed_the_chooks) June 24, 2014
How precious to have a whinge in the midst of one of the most spectacular World Cups ever. 1990 this ain't.
I then ask myself, "What the fuck did they expect?"
This is ITALY v URUGUAY in a World Cup DEATH MATCH.
You know, Italy. The why go out and win a game when a draw will suffice, Italy. The let's slow the tempo down and all it entails, Italy.
And you know, Uruguay. The let's go out and make it a street brawl as Italy are playing five at the back and even though we need to win we also better play five at the back as we only need one goal and we have Luis and he's not wearing his muzzle today, Uruguay.
These teams aren't here to play football, they are here to progress. It's too damn important.
And seriously, who gives a fuck about football neutrals? The Uruguayan and Italian fans in the stadium don't.
'Soy Celeste! Soy Celeste! Celeste Soy Yo!'

The match recommences. It's hot and the humidity is stifling and the stakes are high and the tension mounts until something has to give in the second half.
A red card. Marchisio gets his marching orders. The Italians are down a man and the Uruguayans make their move. A striker comes on for a defender.
The pressure mounts on the Italian defence until it finally cracks.
Diego Godin, whose head won the La Liga title for Atletico Madrid (and almost the UEFA Champions League) rises from a corner to send the Uruguayan crowd into rapture and Italy out of the tournament.
Scenes of unbridled joy in the stadium.
Soy Celeste! Soy Celeste! Celeste Soy Yo!
Uruguay, the giant killer, the little nation that lives for football has done it again.
The celebrations last for 30 minutes. I soak it all in. Below me a father and son hug.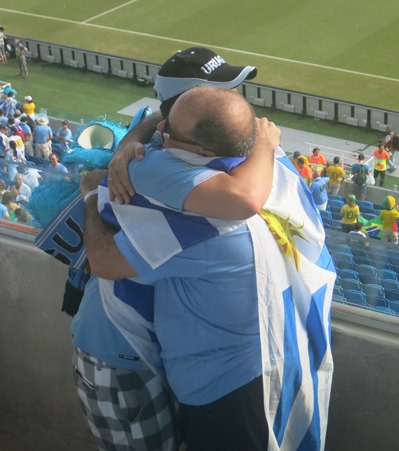 Oh, to walk out of the stadium as a Uruguayan.
My partner and I exit the stadium. We arrive at a point where buses depart for Ponte Negra beach, our home for the last two weeks.
And there it is, a big yellow double decker bus waiting for us to climb aboard. A private bus operator's way to make some extra income metamorphosises into a Uruguayan Magic Bus.
We clamber up to the top deck to find all the windows open, flag and banners billowing off the bus in the wind, Uruguayans in sky blue and in full song,
"Soy Celeste! Soy Celeste! Celeste Soy Yo!" is accompanied by a samba beat from the bus's booming speakers. The bus is rocking.
We slowly start to make our way to Ponte Negra, but this is no average trip, this is a victory parade. Drivers around us honk their horns to add to the crescendo of noise. Passersby, shop assistants, café customers, be they Uruguayan fans, Natal locals or from other nations, stop what they are doing to share the moment, to share the joy, with the passengers on board.
I arrive in Ponte Negra as a Uruguayan.
Football. The beautiful game.