Arriving back in Melbourne from the significant distraction and vacation of a World Cup trip to Brazil is akin to standing under a shower with only one tap and that tap has a letter C on it.
I spent five weeks away. Almost long enough for the current nasty political climate in Australia to evaporate in my mind, but alas, only to be cruelly reminded on return in ways not out of place from a Monty Python sketch.
"When jobs are sparse you have to apply for more jobs to get a job," Westworld escapee Eric Abetz, now Employment Minister, droned on government-funded ABC current affairs program Lateline.
The neo-liberal doublespeak software program installed in his brain working like clockwork.
Hang on a tick. What's this got to do with the Melbourne International Film Festival?
Well, just like most common people, my holiday of a lifetime was funded by an exchange of labour for money. I was in a fortunate enough position to save some money — not having kids at my age helps — to fulfil a dream.
Now, I am back, and that means also back in the job market. I dipped my toes into it and pulled out.
I decided on one last temporary reprieve. To be transported elsewhere for a few weeks via the magic of cinema. So I bought a Melbourne International Film Festival passport to immerse myself in the Seventh Art.
Why go to work when you can see over fifty films (there are over 300 to choose from) in seventeen days from all corners of the world in every conceivable genre.
Where you can really get away from it all with bizarre features like The Distance (Director: Sergio Caballero); where you can watch three dangerous telepathic Russian dwarves with supernatural powers case out a remote disused Siberian power plant to gain access to a portal for their deranged imprisoned client who invented the gateway to another dimension. No…I didn't make that up after taking a tab of LSD, but the Caballero probably did while watching Tarkovsky's Stalker.
However, rather than escaping common people, I keep being reminded on the big screen of the sobering realities of the modern first world job market.
In the utterly compelling documentary The Overnighters (Director: Jesse Moss), fractured men from fractured modern American communities and families make the long trek to North Dakota where fracturing the earth for oil and gas has created an economic and employment boom.
The young father from a ghost town in Wisconsin who left his wife and baby behind, the old husband from Kentucky trying to prove his worth as a man and save a marriage, the man who has spent sixteen years in jail by doing bad things but now wants to live an honest life. The uncomfortable paradox of watching personal salvation being provided by environmental degradation.
Upon arrival, the desperate men require housing in conservative small towns lacking the necessary infrastructure and social services.
Much to the annoyance of the suspicious locals, Pastor Reinke, practising the Christian values of charity and loving thy neighbour, comes to the rescue by providing shelter in his church and car park until the men find their feet, a job, and eventual accommodation in some trailer park or rundown shack. The 21st Century American Dream.
With this influx of men, some of whom have well and truly strayed from the path of virtue, fearful locals and even members of the pastor's flock, campaign to curtail the pastor's activities by trying to get town hall to change ordinances on how the church and car park is used.
All these ingredients make for a solid documentary, but what makes The Overnighters great is the very fallible Pastor Reinke. Not only a man of tremendous charity, but also a man of ego, vanity and weaknesses.
Not only does the Pastor provide shelter in his church, he also puts chosen men up in his house with his understanding wife, teenage son and daughters, who wholeheartedly buy into the Christian project. The more difficult the man's background the better for the pastor as he turns the chosen ones into personal redemption projects.
Problems arise when he evicts a white recovering alcoholic from New York for a black Californian on the sex offenders register.
The jilted New Yorker takes out his revenge by informing the local paper on how the pastor is not only putting up sex offenders in his church, but also in his house in his safe, quiet neighbourhood.
A bonanza for the local paper, a disaster for the pastor as his life begins to unravel before our eyes. And for the documentary maker, well he hits the jackpot in ways he never thought possible.
It's not only in documentaries that the sobering reality of the modern workplace is depicted.
Asked why the consistently excellent Dardenne brothers make films about work and unemployment, Luc Dardenne answered:
"Well, probably because work is enabling a body to live. Our characters are people who used to work and then they lost their jobs, are unemployed now, and this has had a great impact on them. We were raised in Seraing, a big industrial city at the time, a little Detroit."
In their latest film 2 Days, One Night (Directors: Luc & Jean Pierre Dardenne) we follow Xanax-popping, wife and mother of two kids, Sandra (Marion Cotillard) around a French regional town in her quest to save her job. Having to take leave from work after being laid low by depression, Sandra finds out from a colleague that the workers at the solar panel factory were given a choice to either receive a 1000 Euro bonus or keep Sandra on the payroll. In her absence they vote 14 to 3 in a show of hands to take the money.
A distraught Sandra rushes to the factory where she and her colleague convince the owner of the plant that the foreman, who has it in for Sandra, threatened workers to vote a certain way and to have a revote by secret ballot on Monday.
It is Friday evening, she has two days to get the nine votes to save her.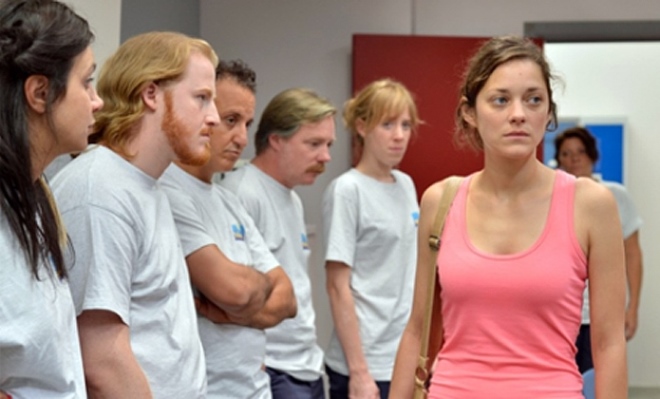 What follows, sans the manipulative soundtrack common in most feature films, is an acute examination of contemporary society as Sandra door knocks her fellow workers to plead her case. Their reactions vary from sympathy and a promise to vote for her to stay on, to sympathy but sorry times are tough and I need the money to pay the bills or put the kids through school, to fuck no and outright hostility.
Sandra is in an invidious position. Already fragile due to her condition, we watch on as the begging and pleading starts to take its toll.
"There is no such thing as society. There is living tapestry of men and women and people and the beauty of that tapestry and the quality of our lives will depend upon how much each of us is prepared to take responsibility for ourselves and each of us prepared to turn round and help by our own efforts those who are unfortunate." – Margaret Thatcher
We are on Sandra's side aren't we? But Maggie's neo-liberal dream has become our reality. Where Maggie sees beauty, I see the ugly truth where jobs for life are a thing of the past, where emaciated unions have been emasculated, long fought for work conditions eroded and the concept of community and society withering on the vine.
"Those who do not work today say they feel they're completely put aside, marginalized, because they feel they're not useful anymore to society. And maybe because we come from that region, we believe, that being useful through the work we do is very important." Luc Dardenne – Film Director
Which brings me to the disappointing Pulp: A Film About Life, Death & Supermarkets (Director: Florian Habicht). This half-baked, half-arsed, documentary on the now defunct indie-pop legends and their enigmatic front man Jarvis Cocker revealed little, unless your schtick is listening to some kids, oddballs and elderly people from their native Sheffield.
But it did offer one genuine insight: Jarvis Cocker's one and only job was as a teenager at the local fish market on Saturdays. He needed the coin for his nights out to try his luck with girls, only problem was that he took the smell with him.
At least for Jarvis, he figured he could escape the common person's fate by starting a band, going to art school and singing about common people instead. It didn't happen overnight. He kept plugging away and it worked.
The Overnighters screens again at the Melbourne International Film Festival this coming Sunday, at 9.00pm at Hoyts Melbourne Central. Details are available on the MIFF site.