On the 24th of May 1999, approximately 11 million Americans tuned in to either WCW Monday Nitro or WWF RAW is WAR. This represented the peak of the infamous 'Monday night wars,' where the flagship broadcasts of Ted Turner's World Championship Wrestling and Vince McMahon's World Wrestling Federation – the two biggest professional wrestling promotions in North America – went head to head.
Professional wrestling at the time was red hot, riding a wave of popularity following a creative revolution in the mid-1990s. Over 14 years later, WCW is gone – bought out, then hastily exploited and dismantled by Vince McMahon in 2001 – and the WWF is now the WWE, running unopposed as the biggest wrestling promotion in the world.
Except they don't want us to call it wrestling anymore; the WWE insists that their product is actually 'sports entertainment', removing the term wrestling from all broadcasts and indeed the company name, formerly World Wrestling Entertainment. Now the letters WWE, much like the product itself, don't really stand for anything.
Corporate shills, minimum thrills
The WWE is a heartless and soulless place in 2013. A promotion known for its bold-faced rebelliousness, personified by wrestlers like Stone Cold Steve Austin and factions like D-Generation-X, has been castrated by a corporate decision to change the product to TV-PG.
John Cena, the promotion's one true full-time superstar – which is what they call all of the wrestlers, "WWE SuperStars" – is pushed at the expense of everyone else on the roster. Cena is extremely unpopular among 'smart marks', ostensibly the true wrestling fans who still watch the shows in the hope of seeing something that will evoke memories of what it felt like to be a viewer during the mystical 'Attitude Era'.
Rather than attempting to construct a show that will appeal to a more mature audience while maintaining PG sensibilities, the WWE currently attempts to engage and satisfy Attitude Era fans by bringing back stars from that period, such as Hollywood actor Dwayne "The Rock" Johnson and former UFC champion Brock Lesnar, to occasionally headline its largely insipid pay per views. This serves to both drive up buy-rates short term and to further damage the credibility of the roster.
The most recent RAW promotion drew 3.8 million viewers (actually an improvement from the previous edition) displaying that professional wrestling is a shell of its former self, both popularly and creatively. Though it should be applauded that the WWE can get 3.8 million Americans to sit though the dire, plodding affair that RAW now is.
For wrestling fans turned off by the WWE's new approach, there are few (English-language) alternatives. Many Attitude Era hardcores have seemingly taken up watching UFC, or just given up on wrestling entirely.
They certainly aren't watching TNA (Total Nonstop Action – yes, really), the second largest promotion in North America by some distance behind WWE.
TNA is probably best known for making shooting-itself-in-the-foot into an art form. Fortunately for TNA, most of its few fans are probably asleep during their horrendous shows anyway, while no one in their right mind even bothers to watch them.
Ring of Honor, the former last remaining bastion of pro wrestling for real wrestling fans, has suffered greatly from WWE and TNA raiding its roster, sale to the Sinclair Broadcast Network and subsequent budget cuts, constant technical problems with its pay per views, a cold war with former employee Gabe Sapolsky's Dragon Gate USA, and Jim Cornette booking the promotion like it belonged in America's deep South, circa 1980. No longer an independent or unique promotion, ROH is struggling to find itself in 2013 despite possessing a talented roster, exacerbating the cultural decline of modern professional wrestling.
Go-Go Guerrilla!
This brings us to a small independent promotion based in Reseda, South California named Pro Wrestling Guerrilla.
PWG was formed in 2003 by a group of SoCal wrestlers, and remains run by wrestlers today, which is perhaps part of the reason why it is damned entertaining to watch.
With no old white businessmen dictating the shows and no megastars with egos to pamper, PWG's wrestlers are essentially given free rein to do whatever the hell they want to. And it shows, with most matches featuring a mix of silly but adult humour (often mocking aspects of wrestling itself) and utterly insane action.
Free from politics and monetary concerns, PWG has the pick of the best talent in North America outside of wrestlers contracted to WWE and TNA. The freedom to express in the ring is clearly seen as attractive to the wrestlers, with PWG shows often resembling a night long game of 'can you top this?'
While the nature of some matches may offend purists, there's undoubtedly something for everyone on a PWG show, with high flyers like the Young Bucks, arguably the best tag team in the world; hard hitters like Roderick Strong and Michael Elgin, whose style is influenced by Japanese wrestling; and true artists of the squared circle like Kevin Steen and Chris Hero.
Hero was recently released by the WWE after he failed to fit into their generic superstar mold. Steen meanwhile, despite possessing perhaps the greatest wrestling mind on the planet (French-Canadian Steen taught himself English by watching WWF broadcasts), won't get a look in at WWE with his physique and their desire for superstars to look less like athletes and more like bodybuilders.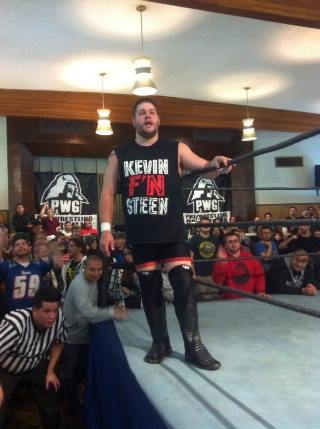 Many wrestlers on the WWE roster have worked for PWG in the past, including former world champions Daniel Bryan and CM Punk, while the WWE's developmental facility/jobber factory is home to several recruits who have recently starred in PWG, such as Sami Zayn (formerly El Generico) and Solomon Crowe (Sami Callihan).
Though, of course, they won't be allowed to produce the same level of in-ring action in WWE as has made them famous on the independent scene. Despite the WWE regularly stealing all of the best talents on the independent scene and paying them a lot more to wrestle a lot less, the freedom of PWG will continue to attract the best independent wrestlers and enable them to put on the most entertaining shows in wrestling. Bigger promotions like the WWE can't hope to emulate the level of action in PWG shows because the superstars simply aren't allowed to express themselves in WWE-style matches.
PWG shows feature a few elements that Attitude Era fans may find welcoming, such as certain gimmicks adding spice to big matches. August's TEN featured two triple-threat matches, one a Guerrilla Warfare match (a hardcore match, or what the WWE would call 'Extreme Rules,' but sans the extreme) the other a tag team ladder match.
Night 1 of All Star Weekend 9 in March also featured a Guerrilla Warfare match between the aforementioned Sami Callihan and Drake Younger, an encounter so brutal that it would've made Mick Foley cringe. Sami also starred in a 60 minute Iron Man match against current PWG (and ROH) champion Adam Cole at Is Your Body Ready? in June.
Tournaments – a dirty word in WWE – are alive and well in PWG, with the Battle of Los Angeles (BOLA) and the Dynamite Duumvirate Tag Team Title Tournament (DDT4) held annually.
And while storylines generally take a back seat to the wrestling in PWG, the shows do have the occasional surprise twist in store, such as the reappearance of Super Dragon at the conclusion of the Steen Wolf card in October 2011. Even if you don't understand the significance of his return, the passionate PWG crowd will sell its importance to you with their reaction. It was a magical way to end probably the best wrestling event produced in North America in 2011.
Bringing the soul back to wrestling
PWG may not have the production value of WWE, nor does it seem to have any interest in growing beyond the sometimes oven-like American Legion Post #308 that it calls home. However, it has the desire to entertain audiences by any means possible, while the WWE is seemingly more concerned about the bottom line than producing shows that feature coherent storylines and regular high-octane action.
If you're bored senseless by the unimaginative drivel served up weekly by the WWE, click here and enjoy the pure, uncut dose of pro wrestling crack that is the preview for the DVD release of Matt Rushmore, the most recent PWG event – WARNING: contains swears and spoilers.
While pro wrestling's soul has been sold to Vince McMahon and locked in a crypt in Titan Tower, the heart isn't quite dead; it's being kept alive on adrenaline in Reseda, South California by Pro Wrestling Guerrilla – the best damn wrestling promotion on the planet.