On Tuesday, July 16, 1918, Newcastle's football community opened their local paper, The Newcastle Morning Herald and Miners' Advocate, to catch up on the latest news and gossip. A sense of dread would usually accompany the rustle of the freshly printed paper. They had grown weary of the unrelenting stream of bad news coming from the battlefields of World War 1. Weary of the news of players they had watched, nurtured and admired being killed and wounded in action. And there were many. Many who enlisted to fight, many who never returned and many who were never be able to play the game again.
As Larry Tamlyn, Secretary of the Northern District British Football Association (NDBFA), declared to a correspondent from a Sydney sporting paper, "over 500 players from his sphere of action have donned khaki. Soccer, he says, is the premier sport there, more popular than the Rugby League."
Football, unlike in other parts of Australia, was mainstream and part of the fabric of Hunter life. The game was mainly played by the working class sons of parents and grandparents who migrated to Australia and set up proud mining communities. They enlisted in their droves in 1915 and 1916. Many served on the Western Front in the 34th Battalion "Maitland's Own" and 35th Battalion "Newcastles' Own." Over 75% of the 500 players who enlisted from the playing ranks of the NDBFA were born in Australia; in stark contrast to Sydney, and especially Melbourne, where the football playing enlistees were predominantly British migrants.
Dread that July morning was replaced with delight as correspondence from the other side of the world described a quite extraordinary story featuring one of Newcastle's favourite football sons, Arthur "Bull" Jennings of the 34th Battalion.
A LETTER FROM BLIGHTY. Arthur Jennings, known as Bull Jennings in the Newcastle and Maitland districts amongst Soccerites, who was a centre forward for Adamstown, Mereweather and Weston, writes from London, after he had been gassed, and says that Blighty is the home of Soccer football. Bull had a few kicks one day at the ball. When Chelsea directors asked him to strip and have a game for Chelsea against Fulham. He played centre forward, and scored three goals, and struck the bottom of the cross-bar with a penalty. The Chelsea directors went mad over him. The inside right to Bull was boosted off as one of the best centre forwards in England a few years ago, but has gone back a lot. The present inside left (Croal) was bought off Glasgow for £1000. So Bull must have been up amongst the big lists that time. After the match the directors asked Bull if he would play, for Chelsea every Saturday. They wrote to the officer-in-command of that depot tor permission for Bull to travel to London every Saturday to play for Chelsea, but they were refused. Bull has since received a letter from the directors of Chelsea, saying after the war they want him to stay in London to play for Chelsea. £4 per week looks all alright, but Bull likes sunny New South Wales much better than Blighty. After the match the London newspapers said the Australian centre forward was a big acquisition to the team that day. Bull says he had a good time, and nothing was too good for him. He wishes to be remembered to all the Soccerites of the Northern Districts British Football Association.

Did Arthur Jennings turn down the chance to become Australia's first international football star? Did the Chelsea directors go mad over him after he scored a hat-trick against Fulham?
So far, a search of the British newspaper archives has failed to confirm his story. Australian newspaper reports confirm that he was, indeed, a formidable centre forward. He was named "Bull" for a reason.
By piecing together press reports, military records and ancestral archives we can develop a picture of the life and times of  Arthur "Bull" Jennings.
He was born Jeremiah Arthur Jennings on January 4, 1892 in Hamilton, NSW. His grandfather Thomas Jennings and grandmother migrated to Australia from Ireland in 1862 and settled in Adamstown in 1878. His father Jeremiah Jennings was a miner and, for a short time, Mayor of Adamstown.
His uncle, John Jennings, was curator of the Sydney Cricket Ground and was employed there for 25 years until his untimely death in 1911, aged 48.
Arthur Jennings was a precocious football talent. Along with his brother, William "Slippery" Jennings, they starred for Adamstown Rosebud in the 1909 Gardiner Challenge Cup Final (FA Cup of NSW)  where they defeated Pyrmont in Sydney. Arthur was only 17 years of age.
In 1911, Arthur and William moved to Sydney to play for Newtown. Later that year the following photo and profile of Arthur Jennings appeared in the Sydney Sun.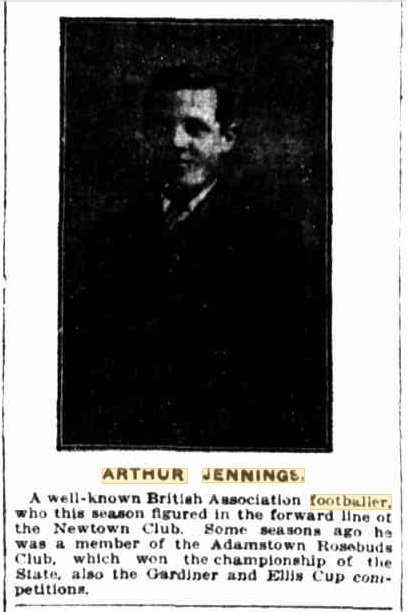 Arthur Jennings returned to Newcastle and made a living as a Bread Carter. In 1915, we find him representing Merewether with distinction. On August 21, he scored in the Senior Final to help deliver the Premiership (Kerr Cup) to Merewether in their 3-0 win over Cessnock. On October 30, he scored in the Ellis Cup Final in Merewether's 3-2 win over West Wallsend. The final whistle to mark the end of the season was the also signal for many players to swap the lush playing fields of the Hunter for the muddy battlefields of France and Belgium.
Arthur Jennings signed up for the 34th Battalion B Company on January 23, 1916, and embarked for Europe from Sydney with his unit on board the HMAT Hororata on May, 2 1916.
We pick up Arthur's story with the 34th Battalion on the eve of The Battle of Messines in Flanders, Belgium.
At 10 pm on the 6th June 1917, the Battalion left its billets fully equipped for the assembly Trenches. The order of march being "D", "A", "C" and "B" Companies. All went well until just before reaching Gunners Farm, where the enemy was putting a number of Gas Shells over and Masks had to be put on. Ploegsteert Wood and the back area were receiving particular attention. All Companies were greatly delayed of the amount of Gas in the Wood, which resulted in a number of men being gassed on the way up and many others were completely exhausted. A number of men lost there way in the darkness and smoke. Many could not see at all and had to be led back by there comrades. I many cases it was the blind leading the blind.  – The Harrower Collection – 34th Battalion History

Warrant Officer Jennings was wounded in action. Gassed. He would spend the next 12 months recovering in England.
During World War 1, regular league football was suspended in England. In London, a competition called the London Combination took its place. Chelsea won the 1917-18 competition and beat Fulham 7-0 that season, but there is no mention of Jennings scoring a hat-trick. There were also charity matches played on London's grounds between professional footballers who had enlisted. Again, no mention of Jennings has been found.
The only other possible way the Chelsea directors could have asked him to "strip" would have been in an informal practice match. As of yet, no London paper has been found describing his impressive display..
The letter published in The Newcastle Herald would have been written by the end of May 1918, just before his departure from England. On June 12, he rejoined his unit in the 34th Battalion on the Somme.
In the cruelest of ironies, on July 16, 1918, on the very day the football folk of Newcastle had been regaled with his Chelsea story, Jennings received a bullet wound to the leg. At the age of 26, the football career of "Bull" Jennings came to a premature end.
"Bull Jennings, the ex-Adamstown, Merewether, and Inter-district player, is also reported "still in hospital." "Bull" was shot in the knee, and in the calf of the leg, as the result of which a short leg may keep this star forward out of the game which he was so fond of. – Newcastle Morning Herald and Miners' Advocate, November 8, 1918
Arthur Jennings returned to Australia in 1919. He was one of 71 members of the Merewether Advance Club who had enlisted. By October 1917, seven had fallen in action. Did he bring back his Chelsea story? Or did he leave it behind on the Western Front with his fallen mates? Maybe, one day, a snippet will surface to transform this incredible football tale to an incredible football story.
Arthur "Bull" Jennings died on October 25, 1952. He was the leading groundsman at Jubilee Oval, Kogarah.
*The story of  Bull Jennings was provided to Northern New South Wales Football (NNSWF). Their version of this story can be seen of their website.
** Research has uncovered an Arthur Jennings playing in Sydney in the 1920s, but he was a recent English arrival and not Arthur "Bull" Jennings.