Within five seconds of boarding the train my mind started to wander. Warped graphic imagery, smouldering in the mental workshop of my mind for most of the day, combusted in an orgiastic cluster-fuck of the taboo and downright sick. Absinthe had played a part.
Earlier that day I had read a particularly odd story about a man from Wyoming who had been caught by police with thirty bovine eyeballs up his ass. He claimed it helped with his erectile dysfunction. The picture sat with me all day.
I sat down and stared at my reflection in the window, vainly attempting to shake the image. Staring at my own eyeballs didn't help. I thought about the corned beef hash and malted shake I had crammed down my gullet earlier that afternoon. Beef? Milk? Nope. Not gonna do it. That's when my eye caught a discarded half-full bottle of water goofing off like a council worker on the carriage floor. Yep. That'll do.
I fixated on the bottle, smirking and nodding my head as it nonchalantly shifted its weight with each roll and lurch of the train. It was charmingly hypnotic. Like some sort of beguiling, liquid pendulum. That could be the absinthe talking.
Now if anyone's familiar with the stretch of BART (Bay Area Rapid Transit – San Francisco's somewhat timid answer to NYC's subway system) line between Glen Park and 16th Street Mission, you'll know that at certain stages of that very short two stop journey that the train picks up some serious speed and downward momentum. It's ear-poppingly fast, blurry and disorienting. Much like the locomotive to hell I assume. It also sways and rocks like a hurricane (thank you Scorpions). It was during this stretch that the water bottle impressed me the most.
I became obsessed with the physics of the situation. As the 60mph descending iron phallus jolted from side to side, its passengers desperately lunging for the nearest handrail while pretending everything's cool, the water bottle, like a really casual metronome, eased back and forth on the floor in the most regimented spirit one can imagine. Nothing deterred this thing. Back and forth. Back and forth. Gently rocking in a combined state of pure precision and harmony. There should have been a crowd of circle-jerkers around this thing. Sexy, sexy stuff.
Seeking to impress myself, I eccentrically scribbled a frantic equation on the whiteboard situated at the back of the mental workshop of my mind. I concluded that the volume of the vessel cubed multiplied by the liquid amount applied to the vessel (assuming that the dead liquid weight equals one gram per millilitre at an atmospheric temperature of 21 degrees celsius) divided by the motion of constant acceleration times the frictional resistance and geometric angle of the surface has to be the sole reason for this most symmetrically orgasmic performance.
i.e.
v x ve3 x l (h2O=1g/1mm@21c) / xy x (x x y) = harmony.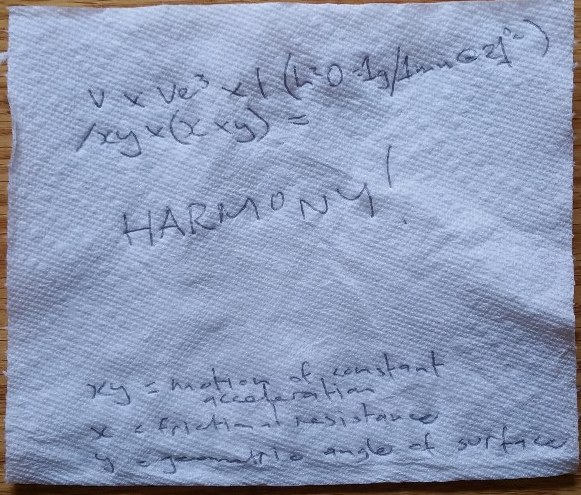 Eureka! I'd discovered the secret to harmony! Pretty obvious when you think about it. To this day I'm still baffled as to how I failed high school physics. Someone really dropped the ball there. Anyway, I de-boarded (as the Yanks say) the train at 16th & Mission and, as I did, the lingering thoughts of the OCD related study of harmonious train litter subsided, making way once more for the predominant thought of the day, cow eyeballs up asses.
Off to Haight-Ashbury.
***
Haight-Ashbury isn't harmonious. It's shit. Oh, the hippies are still there, what with their faux-revolutionary spirit and incessantly tourist-driven cattle-call of "peace man", but let's face it, it's not real and the whole area should be quarantined.
"The Haight" embodies the "hippie spirit" in a very similar way that Robert Mugabe embodies tolerance. Don't get me wrong, the portrayal of hippie spirit still exists; tie-dye waistcoats, crumple zone-less Kombi vans (remember kids, paraplegia is just a mild altercation with a stationary object away) and manky toenails have all played their part here since 67's summer of love. But it's 2015 and love is now just an illusion. And the Haight has adapted accordingly by not only cunningly moving with the times, but, like some evil hippie version of a Power Rangers cartoon, by morphing individual hippies into one malicious robotic Super-Being symbol of a greedy and immoral present day. Under the bloodshot guise of a mythical hippie ethos, it has become the epicentric corporate stench-hole of capitalism and legal thievery. Come back in ten years and every dreadlocked bongo playing grifter and passive-aggressive runaway teen retail lackey will be wearing a Donald Trump toupee.
"Oh, but aren't the shops ever so groovy."
Yes, they're fucking fantastic. So nauseatingly colourful. Such a freedom of expression and a true display of love for your fellow man. "I particularly love your mass display of poorly made identical 150 dollar tie-dyed baggy pants with Jimi Hendrix's face on the ass that were mass produced in a Bangladeshi sweat shop for 75 cents, which by the way is the average monthly wage of the very worker that made them. I must own a pair."
Sheesh.
I avoided the guy with the two-ringed binder loaded with pre-rolled joints organised alphabetically by strain in colour-coded plastic A4 sleeves and got the hell outta there. OCD bookkeepers selling weed on the streets now? Is nothing sacred?
There are two styles of pedestrianism in San Francisco: uphill and downhill. As the day had now entered that uninspiring no man's land of no-longer-afternoon-not-quite-evening, I thought it much easier to head downhill. Besides, the sugary cushion effect provided by my wormwood intake had grown quite threadbare; if I run downhill, I'll get to a bar quicker.
And I did.
Where the Haight lacks in authenticity, style, charisma… the Madrone Art Bar on Divisadero picks up the slack. So much so that upon entering, I immediately dubbed the discovery of this eccentric establishment as the King of Happy Accidents. I felt like that weird little Scottish dude that starred opposite Gwyneth Paltrow in that horrible movie from the late 90s. It was that much of a Sliding Doors moment. If I'd been looking the other direction as I passed the nondescript street corner while fleeing the Haight, or if I'd slowed to scratch myself vigorously at the precise moment of passing the front entrance, I may never have seen the very very little flyer at the bottom left corner of the noticeboard.
It read "D.J. Lebowitz."
"D.J. Lebowitz!" Every so often you hear a name that you haven't thought of in years and it takes you back to an irrelevant but fun nanosecond of your life – in this case 1991 – and you nod your head and smile and think, "Yeah. That dude was really fucking cool." This was one of those moments.
"D.J. Lebowitz. Live. At the piano. Tonight. Free. 6-9pm." A small note scrawled across the bottom said "Don't worry, D.J. will not sing." I sat at the bar, ordered a Green Fairy and grappled with my increasing surge of anticipation.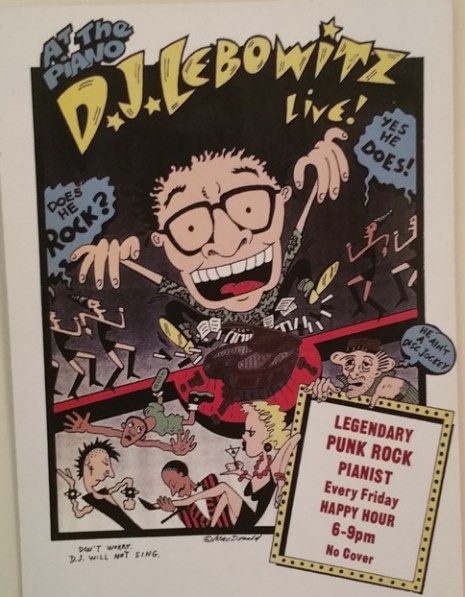 ***
The name D.J. Lebowitz to some, may suggest rabbi turntablist. Thankfully (or regrettably) he is neither. What he is is a "punk piano player" NYC expat who has remained a stalwart of the Bay Area music scene for the best part of three decades.
*NB: Some guy at the bar who I've never seen before and never seen since told me that D.J. Lebowitz went "missing" for the best part of the 1990s and early 2000s. This has not been substantiated as I felt somewhat awkward trying to slot the subject seamlessly into my discussion with D.J. nor can I find (or can be bothered finding) any information on said disappearance since. So for the purpose of this piece, we'll continue to use the term stalwart.
The stalwart first made his name beyond the Bay Area in 1988 when he recorded a truly magnificent piano instrumental of the Dead Kennedys absolute classic "Holiday In Cambodia" for a nifty little compilation album called Beautiful Happiness.
"I never got paid for that!" D.J. barks at me, part in good humour, part out of a long-lived frustration. "Didn't like the album artwork either. I would never have agreed to appear had I known what was going on the cover."
It is one of the more graphic album sleeves; not quite up there with the Appetite For Destruction original banned concept but nonetheless, it treads the tightrope with the best of them. I'm not sure if it was the lobotomised maniac in a Black Flag "No Values" t-shirt clutching a bloodied chainsaw in one hand, a screwdriver in the other, stethoscope around his intensely clenched and bulbous neck with a self-satisfied smirk on his face that D.J. had the problem with or if it was the hideously deformed, blindfolded screaming freak prisoner trapped inside of, and chained to, a metal cube, post-operation with arms agonisingly snapped back in unnatural positions, a skeletal arm for a left leg and a right leg broken at right angles. Maybe it was both. Who can say? I guess we'll never know.
Gloriously psychotic album artwork or not, the contents of the compilation (jointly released by Sounds and Shigaku Limited) pack a mighty punch. Lebowitz is in excellent company. Great tracks by Naked Raygun ("Vanilla Blue") Bullet Lavolta ("Birth of Death") and Live Skull ("Paul Revere's Bush") all launched those particular bands into what ended up to be pretty solid alt. rock careers. Minneapolis' Halo of Flies also make an appearance with the seminal "Richie's Dog" (can someone please tell me once and for all: is this a song about bestiality or about a guy who just enjoys hanging with his best mate's dog?) along with some quirkily excellent novelty-type songs such as Art Phag's "Golf" (an angry, whinging yet stompingly hilarious listen) and of course Lebowitz's punk piano.
Whether Lebowitz got paid or not is a story for another day, suffice it to say, his appearance on the compilation did expose him to a larger audience and, as a result, his previously unknown 1986 full-length release Beware of the Piano slowly coaxed itself out of obscurity and into semi-obscurity. Another punk staple, the Ramones' "Judy is a Punk" makes an appearance on this as well as a swag of nifty originals, the standouts being "Lousy Personality" "Because of my Haemorrhoids" and the tone-setting feature of this evening's entertainment "The Barking Song".
***
A not quite elderly, balding man with a serious beer gut and food stains on his faded t-shirt walks into the bar. He makes a derogatorily jovial comment at the expense of my fabulous purple shirt, pats a raggedy but cute little Cairn Terrier on the head, sits down at a beat-up piano and proceeds playing Bruce Springsteen's "Dancing in the Dark". "Who the fuck is this?" I ask the guy sitting next to me at the bar. "That's D.J. motherfucking Lebowitz my man."
That's D.J. Lebowitz!?
"My most requested songs are Sweet Caroline and Piano Man", Lebowitz later confessed to me with a screwed up face. "I hate those songs so much but I play them anyway, it's what they want."
There is a cheeky child-like quality to Lebowitz that can appear both charmingly innocent and boisterously unsettling. Fidgeting relentlessly in his seat and almost baiting you to tell him to knock it off, he's able to reel off precise dates and locations at will. "I first met Jello Biafra on January 23rd 1982. In Oakland. On 3rd Street. He knows who I am."
When he blinks, he blinks like each may be his last. Seriously, he would give a high-speed camera shutter a run for its money. Each blink is as precise and as swift as a guillotine blade, his eyes snapping down so hard that you can't help but jump back a little each time. There's a Seinfeld episode title in that somewhere, "The Heavy Blinker".
Blinking ferociously, he seems to bark angry nothings and whisper demure inquisitions in the same breath, "People think I'm a DJ. I'M NOT A DJ! Have you been to Perth?" he asks while making eye contact with me when he thinks I'm not looking and coyly looking away when he knows I am.
Coldplay's "God Put a Smile On Your Face" was next. This could be a long evening. Better get another Green Fairy. "Barkeep!"
There is also a slightly disturbed yet gentle aura surrounding D.J., of a man who's led a difficult, somewhat frustrating life; a once precocious talent gone unrecognised now beyond any form of a substantial, self-sufficient career. He knows it too. In an almost self-deprecating manner, "I usually play here and a couple of other places around the Bay Area. I have a Thursday residency at another bar and on weekends I sometimes play at a deli in North Beach. It's really cool because I can eat what I want."
The talent's still there though as shown in the next tune, a rousing rendition of "Judy Is A Punk". The set was hotting up and D.J. clearly was feeding off the small crowd's energy as a channelling of a slightly mischievous love child of Jerry Lee Lewis and Joey Ramone seemed to be happening before our eyes. Think I'll just sit on this absinthe for a while. It's bloody lucky I did.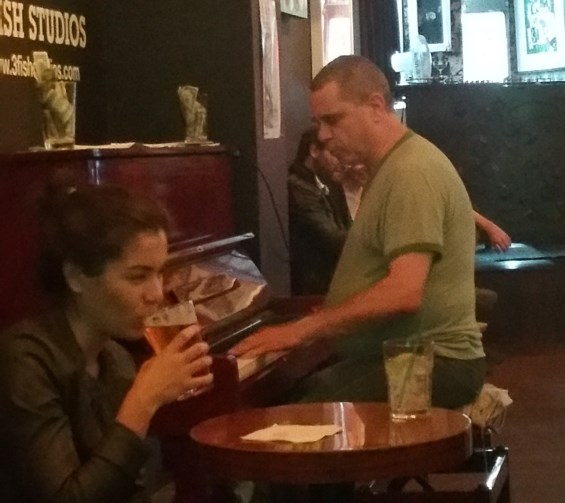 ***
Did I just see a small dog in a tutu hop by on its hind legs?
The great thing about absinthe is that it's a most excellent leveller. Toulouse Lautrec, Vincent Van Gogh, Ben Munday, Arthur Rimbaud… the green torment has fucked with all of our heads at some stage or another and for that, we're all one and the same. In small doses it can enhance the most yawn yawn experience into something quite surreal, immeasurably inspiring and wonderfully pleasurable. In large doses it's just fucked up. Also, I'm not sure that the next ten minutes of D.J.'s set really needed any form of enhancement.
Yes I did just see a small dog in a tutu hop by on its hind legs.
Things had just been taken up a notch. As Lebowitz ploughed his way through a surprisingly eclectic mish-mash of piano instrumentals including "Stairway to Heaven" "Because of My Haemorrhoids" "Sweet Caroline" and "Holiday in Cambodia", the human to dog ratio at the bar seemed to equalise quite dramatically. Each dog entered the bar via the rear door, in various stages of dress, evenly spaced and one by one with owners in tow. The first dog was a Chihuahua in a bow tie, the second a small Poodle in a tutu, third a Jack Russell in a vest, an Italian Greyhound in a party hat, a Kelpie with a bandana, a Golden Retriever with an umbrella?!, a Pitbull in a masquerade mask, a Great Dane wearing socks… not only were these dogs increasing in size, they were increasing in absurdity. Was I an unknowing participant in some sort of drug-induced Barbara Woodhouse late night TV special? And what's more, where the hell did I just pull that name from? I shot a questioning look at the bartender. He just looked at me and laughed. A Newfoundland in sunglasses walked in. Like Sylvester the Cat throwing away his catnip, I pushed away my jar of absinthe.
With his tip jar overflowing, a semi-circle of floorspace was cleared around Lebowitz as repeated crowd shouts of "Pol Pot! Pol Pot! Pol Pot!" signified the anthemic climax to "Holiday in Cambodia". Cue "The Barking Song".
Several of the dogs sat at Lebowitz's feet, all either looking up at him or their owners with such anticipation, as if to say "Just play the fucking song!" They knew it was showtime.
The song itself is quite short, maybe two minutes and consists mostly of some elevator style piano noodling with several significant pauses that allow enough time for dogs to bark. Then the piano starts again and the dogs stop. Forget ridiculous equations and phoney tourist traps; this was pure harmony.
"All this dog stuff started at a club in North Beach called the square. I was playing the Barking Song and the club owners St. Bernard all of a sudden started barking whenever I would bark. It's been a favourite ever since. Pays the bills too."
Seems it's evolved into an absurdist fashion parade over the years.
I wanted to ask someone, anyone, how the hell do the dogs know when to bark and when not to bark, but I didn't want to look stupid. So, I just asked the guy next to me, "What's going on?"
"Ain't it obvious? It's D.J. fucking Lebowitz man."
Yes. Yes it is.
We wish to thank to Giandomenico Tiepolo (1727-1804) for his painting of I Cani Sapienti (The Dancing Dogs)