Nevena Kesic is a football fan. She went to the ball on the night of the Asian Cup Final. Here she recounts how her night turned into a Socceroos fairy tale.

Three middle-aged gentlemen are peering at the television when we file in, fixing us with a curious glance as we immediately find a seat in front of the TV, clad in a suit and ball gown. A few inebriated characters sit nearby; quiet, hand glued to pint. Stale alcohol fumes. Something about the scene screams quintessential Australiana. I glance at my husband and we exchange sheepish smiles, our eyes immediately returning to the screen. I put on his 2006 Aloisi jersey over my ball gown as Igor holds my '06 Neill jersey across his lap and wraps my '06 scarf around his neck. It's a bloody cold night for summer.
*   *   *
"Okay, okay, I've got it all figured out. We … wag the ball."
I narrow my eyes all mock ornery and start what might as well be a soliloquy.
"Yeah, yeah! C'mon, work with me here. We sneak out, say, 9.15pm? Yeah, that sounds about right – that's about, what, 60 minutes into the match. So we go across to the pub then – I cannot believe the pub is right across the road from the ballroom, it's a sign – and sneak back in once the game is over with everyone none the wiser. My God, it's the perfect plan. I mean, yeah, we'll miss out on the first 60 minutes – ugh – but better that than missing out on the whole damn thing. Seriously, I could cry about the freakin' ball being the same night … Igor? Are you laughing at me?"
*   *   *
Fingers gripping a table's edge, the seat of a chair, knees. Hands on head, half-heartedly covering eyes and peeking through. Biting down on knuckles. Heart in throat.
"Noooooooo, I can't believe they equalised in the 92nd minute, what the fuck! Let's just go, I can't watch this any more. It's too painful," Igor moans.
It's all just words from my crestfallen husband; he stays seated, watching.
And so we stay. Of course, we stay.
*   *   *
 Bloody hell, Australia. Bloody hell!
Exhilaration, emotional mayhem, sheer joy, a helluva lot of hollering, all topped off with a hefty dose of jumping up and down maniacally. That Asian Cup final had all the hallmarks of hitting you smack bang in the heart and, at times, ripping it right out and stomping on it just for good measure.
Saturday was pretty damn swell, wasn't it?
That's football. God, how often do we say that? Platitudinous of me, sure, but let's be real: is there another sport so beautiful, one that vortexes you through so many freakin' emotions, often within a span of seconds?
The Socceroos fought for it (case in point, Tomi Juric's brilliant stubbornness before he crossed to Troisi) – not only on Saturday, but throughout the entire Asian Cup tournament in all its inspiring melting pot glory. Luongo's stunning long-range goal was a sight to behold (and can I just say, Socceroos, I love you, but please do more long-range strikes) and Troisi's assertive slam into the net kickstarted our jammed up tickers. Timmy's reverse scissor kick from the quarter final won't soon fade from our collective memory – it was a thing of beauty. So, too, was his flawless header from the same match. The four Socceroos goals from the first match, from the second match – it was all fantastic. Yes, even losing to Korea in that match. (Okay, that last one maybe not so much.)
And doesn't it ever feel wonderful to say we've won the Asian Cup. Australia, the Socceroos: Asian Cup champions.
The random pub we found ourselves in on Saturday was woefully empty, bar about a dozen people. Igor and I were, like typical awesome wogs who adore their football, the loudest ones there, not caring what our fellow (subdued) revellers thought (for what it's worth, they seemed most amused by our zeal), and when stoppage time finally, blissfully came and the final whistle blew, we leapt to our feet, hugged, shrieked with joy, jumped up and down (I in my sparkly high heels, Jesus) and applauded at the screen. In Ange We Trust, indeed; a fitting maxim for a man who has always fervently believed in football, the power thereof, and his team(s). Ange, you champ.
We couldn't wipe the grins off our faces when Mile lifted the trophy, the confetti flew, the boys jumped up and down, and the 80,000-strong crowd roared and cheered.
We went to the opening match at AAMI Stadium, Australia v Kuwait.
I'm not superstitious by any stretch of the imagination, but for whatever reason later that night I said to Igor, "Hey, wait! Don't throw out those tickets!" I insisted we keep them on the fridge because, well, if we throw them away maybe we've somehow jinxed the Socceroos. Ha!
*   *   *
Growing up in former Yugoslavia, a Serb from Croatia, football was everything. When we weren't playing it outside our apartment buildings (virtually every apartment building had a mini football field with goal posts), we were watching it, and playing and watching, and…and-and-and. Yugoslavia had amazing players, legendary players. Dragoslav Šekularac, Asim Ferhatović Hase and Safet Sušić (Bosnia's coach in last year's World Cup) are just a few, and a newer crop of would-be Yugo legends were on the rise in the early 1990s but life and a senseless war got in the way.
I think about them from time to time – players who were the gold standard when we were kids, players we referenced and knew. Boys wanted to be Prosinečki, Savićević, Dragan Stojković and others. When they played, they assumed their favourite players' names and, they hoped, their playing styles. They narrated as they ran, faux-commentating with bombast. I think about the ex-Yugo players now, at 29, thousands and thousands of kilometres from my original home, and now I have players bearing different names who have captured my imagination from 2005 to present day, and, dammit, I love them too. Maybe even a little bit more, I must confess. And that's hard to say.
I screamed when Aloisi made the decisive penalty against Uruguay in 2005. I screamed anew when Timmy, then just boyish Tim Cahill, scored the double-whammy in the Australia v Japan match at the 2006 World Cup and instantly made a name for himself. I screamed when Moore and Harry scored against Croatia and we made the round of 16. I screamed in anguish when it all got shot to shit against Italy, and so did thousands of others as we watched in the wee hours at Fed Square, trying not to freeze, watching Totti do what Totti did best. I continued screaming and cheering during the 2010 World Cup, and last year's, too. I don't just love them when they're winning, either. (Hell, I'm not a fair-weather fan!) I love them, period. I love their warmth, camaraderie and tenacity; the way they celebrate; their passion, enthusiasm and fortitude.
It's just that bloody simple.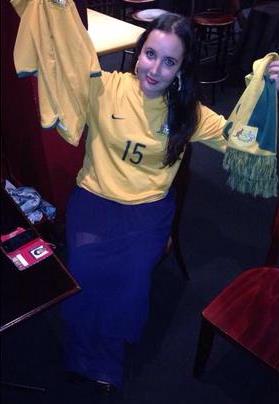 Nevena suddenly snapped out of her reverie. She had a ball to attend. In her ball gown and sparkly high heels she exited the pub with Igor in tow, crossed the road and rejoined the ball.
THE END