He liked Hank Snow, smelt of cigarettes and sherry, and had a souvenir Minutemen licence plate on the wall.
His shop, Russell's Golden Records, was in a pokey block of offices and shoe repair places that no matter the time of year or weather always seemed shrouded in an eternally dank Tuesday 3pm gloom.
He sold records. He might even have sold records to you if you were black, Samoan or a lesbian. You wouldn't have got much chit-chat though. Because he knew your sort.
And that Minutemen licence plate. No, you punk dweeb. That's not the band; that's the American patriot brigade that fought in the American Revolutionary War, you dummy.
Russell grumbled a hell of a lot about all sorts of things while he sat there on his stool behind the counter, cleaning his records, rolling the next cigarette, waiting for teenagers to come in and try to steal stuff.
Some people said he had a shotgun behind the counter. People in Frankston tend to say a lot of stupid shit.
But I doubt many teenagers ever bothered coming in, letting alone stealing the rare and precious Sonny Burgess or Tennessee Ernie Ford records off the walls of his shop. The teenagers who did go in were the oddballs who were really into music.
Sure, some of those kids would steal shit. But mainly just the 50 cent scratched-to-shit records Russell kept in crates near the door or under the record bins where the proper stuff was kept.
Occasionally you could find some real gems in Russell's, like the free-skronk-punk No New York compilation I picked up for $10. Russell was more of a Wanda Jackson man than Lydia Lunch.
He checked his price guides (this was pre-internet, before eBay, way before vinyl was resurrected as hipster commodity item) and would make sure he was ripping you off as fairly as he could. He was a man of integrity.
I remember the day I told him I was moving from Frankston, an end-of-the-train-line Melbourne suburb with a less-than-great reputation, to Brunswick, an inner city suburb that was not as hip as it's now, but did have a population of students, ethnics and squatters.
"Why you moving there? It's full of lesbians."
With that, he meticulously, delicately wiped clean another record, took a sip of sherry and grunted. I gave him my five bucks for an Alice Cooper Greatest Hits album (that awesome one with the brown and sepia 1930s Damon Runyon-gangster cover and all the best songs on it) and said goodbye.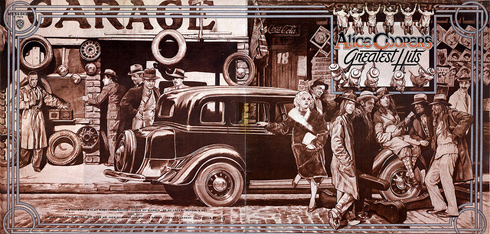 God bless record stores and the bearded old racist drunks who work in them.