Watch out for the alpaca poo when you play football in the Drynan family's idyllic backyard – especially if you play in bare feet.
Four alpacas look on from behind a fence, like bemused Peruvian hipsters, as kids whirl around the slightly lopsided pitch, junior-sized metal pipe goalposts set up at either end.
Kick the ball too far up one end of the pitch and you have to jump into the chook pen to retrieve it; too far at the other and the neighbour's surly horse eyes you off while you go get the ball.
This was John Drynan's home; his refuge, his passion, his slice of heaven.
Walking up from the makeshift football pitch you go past the kids' trampoline, around the swimming pool, past the two sleeping Gordon Setters and onto the back veranda, which is home to numerous lizard and bird cages. John and his wife of 17 years, Ingrid [this writer's cousin], would spend many balmy Brisbane nights entertaining family and friends here. Their children – 15-year-old Michael, 13-year-old Zoe and eight-year-old scamp Nicole – never far from sight.
John would stand behind "John's Bar" cracking jokes and dispensing drinks. His favourite was that old Queensland standby, Bundy & Coke. Taking pride of place on the brick wall behind the bar, a framed poster of the 2011 A-League champions, Brisbane Roar.
The Drynans are paid up and very vocal members of the club, living its ups and downs with fervour, Orange through and through.
John grew up with football and played juniors for Pine Rivers United, a community club based in Brisbane's northern suburbs. In time honoured tradition, he progressed from the juniors to the seniors, where he played in the Queensland Premier League and First Division during the 1990s. In later years, John played and coached the seniors at his local club, Samford Rangers. He then played over 35s at Pine Hills; remarkably, considering his illness, he was part of the team that won the over 35s grand final in 2013.
"No one could beat John in the air," one of John's old playing mates told me.
He and Ingrid, who had also grown up in the game and played for around 20 years, loved their football.
It was meant to be when they met all those years ago, cupid's arrow slung by a mutual friend, Natalie, who had told John about the incredible young woman at the local dog obedience club who also happened to be football mad. John turned up at the dog club one night and the two stood there talking for hours, dogs by their sides, after everyone else had long ago left.
The Drynans had experienced their ups and downs. But they always got right back up and dusted themselves off, in much the same fashion as John had done when he was a no-nonsense defender back in his playing days.
Three-and-a-half years ago, however, John was diagnosed with cancer. It was a skin cancer that soon spread. The chemo and radiation therapy was gruelling. It gradually reduced his physique from lean to gaunt.
John passed away on November 14th at home in bed, with his wife, children, parents and friends around him. He had just celebrated his 50th birthday a few weeks before and it was their wedding anniversary the very next day. He had made sure to present her with an eternity ring not long before he died.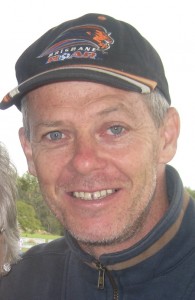 The next day on the Pine Rivers website, the club posted a notice:
It is with heavy hearts that the Senior Executive Committee pass on their condolences to Ingrid and all her family on the passing of Rivers stalwart John Drynan in the early hours of this morning.   
John was a wonderful club man who spent many a year as a Predator at PRUSC. Friend, player, mentor and coach, JD will be sorely missed.
There were hundreds of people at the funeral service. Brisbane Roar shirts and scarves dotted about the place in among the mourners. John's son, Michael, spoke eloquently and with grace about his dad: "He was a champion."
Former Brisbane Roar chief operating officer (and now Central Coast Mariners CEO) Bruce Stalder also spoke at the service, recounting the work John had done for the club as a volunteer.
He recalled one assignment when John chaperoned an especially fastidious and exacting match commissioner, a former Malaysian army colonel, for an Asian Champions League tie.
"If you know football and how these things work, you'll know how important it is to look after the match commissioner," Stalder said.
Stalder told mourners how John sat down for coffee with this high ranking and important man and they proceeded to talk for hours about football, their families and Malaysia.
"John didn't know a bloody thing about Malaysia of course!" Stalder laughed.
By the end of the day, the Malaysian match commissioner was effusively singing John's praises to Stalder. "This man is a God," the Colonel had told Stalder.
That was John. Always ready to sit down, break bread and talk football. He was interested in people and their stories. He was the type of person who understands that connecting with people makes you a bigger, better person. And he loved to connect through football. The hundreds of people at his funeral service that day had all become bigger, better people for having known John.
Natalie, the friend who'd brought them together, was misty eyed when she told me the story of how John had taught her how to head a ball properly. He loved to share his knowledge, his time and his passion with others.
The day after the funeral, we sat in the Drynans' lounge room watching the Roar disappointingly capitulate to Victory (Mike Mulvey's last match in charge). John watched on from a framed photo on the side table next to his armchair. He would have had a few choice words about the display.
Ingrid sat in the armchair, drinking a Bundy & Coke, a look of unspeakable sadness in her eyes.
It's always hard to know what to say, how to comfort someone who has lost a loved one. The words we use at such times never seem to say enough; the hugs we give never seem comforting enough; the tears we shed always just drops in an ocean of heartache.
That most ecumenical of football songs, "You'll Never Walk Alone", played as the funeral procession departed the chapel at the end of John's service. Adopted by Liverpool fans in 1963 after local boys Gerry and the Pacemakers made it a big hit, the Rodgers and Hammerstein show tune is one of those songs that has transcended its time and place to become a universal hymn.
Ingrid will never walk alone. Her children will never walk alone. John's spirit walks with them, and all of us fortunate enough to have been touched by John's spirit walk with them too.