Hollywood's raging hard-on for comic book adaptations – largely of the 'tights and fights' variety – shows no signs of deflating.
Increasingly, movies and TV series based on comic books loom as a 'safe bet' to an industry short on original ideas; however, many comic book creators are doing anything but playing it safe within their own realm of storytelling.
Independent comic publishers provide writers and artists with a space to freely express their ideas – and away from the bottom-line driven editorial influences of Marvel and DC.
The results, in many cases, are astounding. Comic book readers are being spoilt with arguably the most innovative and daring stories being published in any medium. It should come as no surprise then that the previously languishing industry is showing signs of life while other printed media is falling deeper into the abyss.
One series that stands out as proof that independently published, creator-owned comics are pushing the limits of creative thinking is Saga, penned by Brian K. Vaughan – whose more mainstream credits include co-writing seven episodes of Lost, developing Stephen King's Under The Dome for TV and bringing to life the glorious art of Fiona Staples.
The series follows the journey of lovers Alana and Marko, whose planets are at war, and their daughter Hazel, the story's narrator (think 'Future Ted' in How I Met Your Mother). The first chapter begins with Hazel's birth and the couple's attempt to escape from parties belonging to each world, who are hunting them down.
Billed as "…an epic space opera/fantasy… heavily influenced by Star Wars" by publisher Image Comics, it'd be quite easy to get the wrong impression about Saga.
Saga is as much a biting, irreverent comedy mixed with some heartfelt family-centric drama as a lovelorn geek's wet dream of "A Game of Thrones meets Star Wars meets Romeo and Juliet."
Saga could only ever work as a comic, largely due to its epic setting – which would incur a budget well beyond the means of any potential TV series, and far too large to be crammed into a two hour movie. The lewd and sometimes disturbing humour would likely also have to be neutered.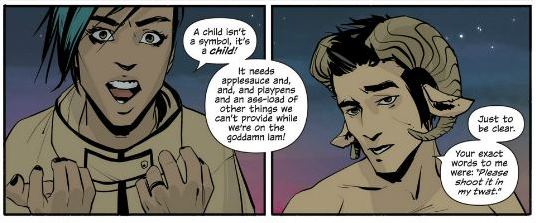 If developed in any other medium, Saga would likely garner the sort of fandom enjoyed by independent-comic-to-small-screen franchise The Walking Dead. In January, the only indie books to sell more than Saga #18 were issues 119 and 120 of TWD.
But Saga could never work as anything but a comic book, so those who dismiss comics as the domain of young boys, teenaged geeks and 40-year-old virgins are missing out on the most imaginative storytelling in modern pop culture. Issue 1 of Saga can be enjoyed here for free.
Saga is only the tip of the iceberg of independent comics; really, there's something out there for everyone.
Disappointed with the tepid conclusion to True Detective? Then perhaps give writer Ed Brubaker and artist Sean Phillips' Fatale a go.
Fatale is a disturbing and violent noir/cosmic horror mash-up, telling the story of Josephine, the titular femme fatale, who is seemingly unkillable and has the (unwilling) power to completely enthral men. Josephine is also on the run from someone – or something – quite sinister.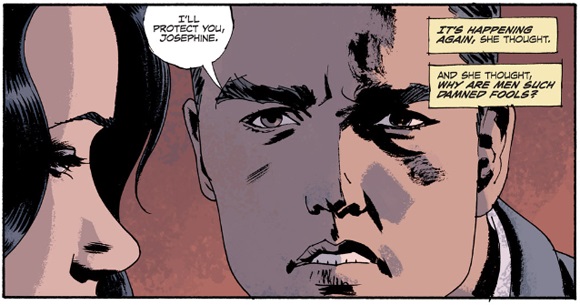 Like Saga, the first issue of Fatale is available digitally at Comixology for free.
Brubaker and Phillips are a power team in comics, recently signing a five-year deal with Fatale's publisher Image that gives them free reign to publish what they please. Two of the pair's previous works are in development as films, while Brubaker is also behind the Winter Soldier story, serving as the basis for the upcoming Captain America sequel.
Brubaker's other current indie book, the spy thriller Velvet, is also well worth a look.
Other comics breaking new ground include Matt Fraction and Chip Zdarsky's wonderfully named Sex Criminals, which focuses on the story of two young lovers who have the power to literally stop time when they bump uglies, or while flying solo.
In reality, Sex Criminals is a romantic comedy featuring an honest and mature (in spite of the book's immature laughs) look at sex and relationships. Read the first issue free here.
Fraction's wife Kelly Sue Deconnick has her own independent comic of note, teaming with artist Emma Rios and colourist machine Jordie Bellaire to produce Pretty Deadly, a strange, surrealist Western that might vaguely resemble the result of a meeting of the minds between Hayao Miyazaki, Sergio Leone and Alejandro Jodorowsky.

Again, Pretty Deadly is the type of high-concept work that could only find life as an independent comic book.
Similarly abstract and unique are the ideas of Jonathan Hickman, the man behind The Manhattan Projects (with artist Nick Pitarra), East of West (with Nick Dragotta) and Secret (with Ryan Bodenheim).
Hickman's work is not for the impatient – he plays the long game and is not interested in holding the reader's hand. However, those who enjoy the films of David Lynch and Nicolas Winding Refn might quickly become Hickman fans.
All three titles are worth a look, but The Manhattan Projects is the best example of how far creators are allowed to take their ideas in independent comics. TMP is a dark parody of some of the 20th century's greatest minds as they do the bidding of the US government on secret science projects, and it is absolutely batshit insane.
Ever wanted to see a machine-gun toting Albert Einstein fight a droid army controlled by a Franklin D. Roosevelt AI? You'll find it in this series.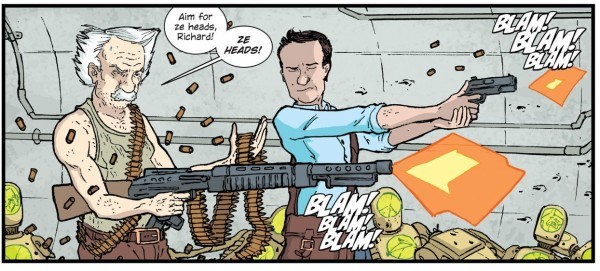 Have a read of issue 1 to get a glimpse of the craziness; in this case, the story of how the malevolent Joseph Oppenheimer consumed (as in ate) his twin brother Robert to ensure his soul lived on within him. Yes, really.
Finally, a book touching on a similar theme to TMP but in a more realistic way is Think Tank by Matt Hawkins and Rahsan Ekedal.
Also a dark comedy with a backdrop of secret government research, Think Tank is set in the current day and follows the exploits of David Loren, a scientist who acts like a smart-arsed frat boy while developing weapons for the US government.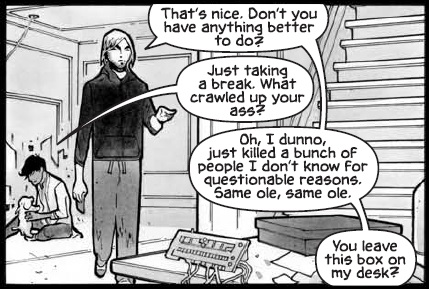 Dr. Loren also struggles with the amount of death and destruction his inventions – which Hawkins bases on real-life weapons and conceptual thinking, as explained in the back matter of each issue – cause in the hands of his military overlords.
So it's no surprise that Think Tank has found life as a comic book, where it can fly under the radar. Surely no TV network would court the controversy likely to be generated by such scenarios as the most recent arc, which depicted a US senator and a Chinese general colluding to start World War III.
A PDF of the first issue of Think Tank can be downloaded here.
In reality this article represents the barest scratch on the surface of independent comics, where new series with original and daring premises are being released seemingly every week. It is clear, however, that the freedom afforded creators by independent publishers has resulted in stories and concepts not likely to be found anywhere else.
In short, those not reading indie comics are missing out on the most inventive stories being told in modern pop culture, such that Hollywood could never dare to rip off and ruin. Maybe the nerds are onto something after all.