England's best performance of the 2014 World Cup wasn't produced on the pitches in Brazil, where The Three Lions were below average to put it politely. And it certainly wasn't produced by a player. The caveat of England's best performer belonged to David Squires, premier grade football cartoonist. His outstanding illustrated chronicle of the tournament published on his website The Sunshine Room produced gems like "Where's Ronnie?"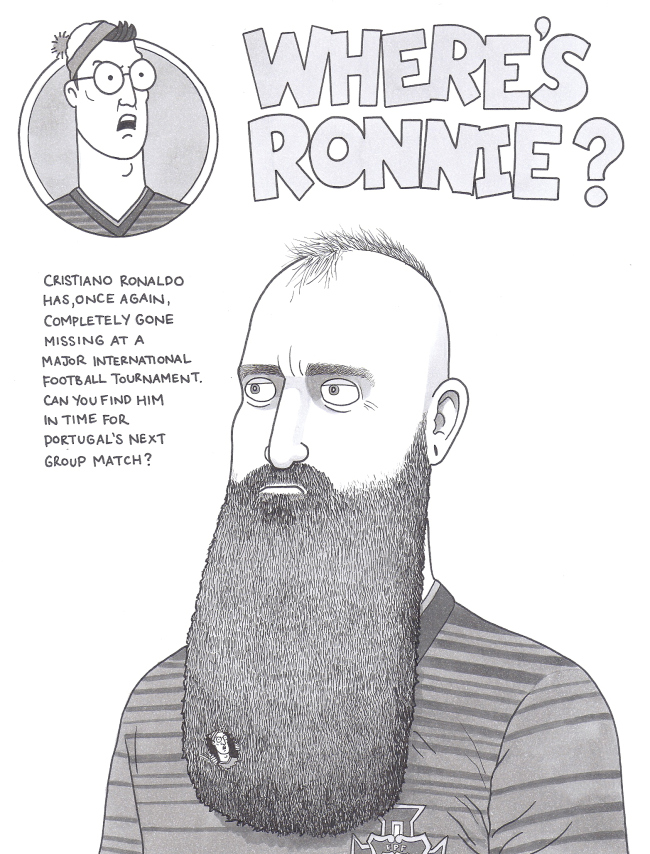 The cartoons didn't go unnoticed. As England's fortunes flagged, David's World Cup cartoon capers gained a social media cult following. So much so, he went from being minor underground indie hit to mainstream media sensation.
But David didn't rest on his laurels and he certainly didn't compromise his punk football aesthetic. Instead of falling asleep like Alan Shearer during the recent England v Norway friendly, David took this 90 minute lump of boring batshit and turned it into great art.
I can't think of a more eloquent, yet devastating summation of the state of the English nation (and its football). It's the "Guernica" of football cartoons.
Images from England v Norway set to the lyrics of 'The Dead Flag Blues' by Godspeed You! Black Emperor: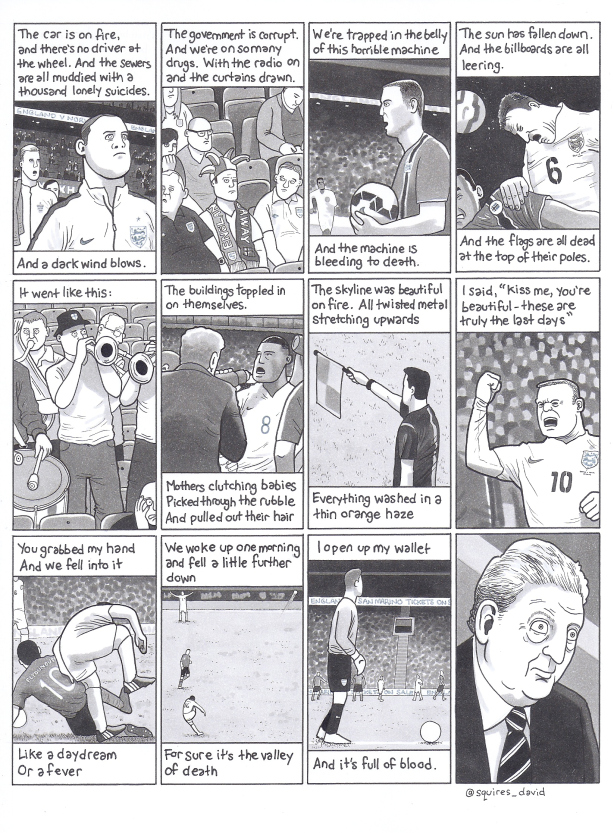 That was it. All my buttons were getting pushed. Football + post-rock musical genius + nailing the zeitgeist. I had to get in touch with David and ask him to do a Q&A with Shoot Farken. A little research and I discovered he was a Swindon Town fan.
Excellent, not only were we both fans of Godspeed You! Black Emperor (GYBE), who I had seen in Melbourne in 2013, but I had also seen Swindon Town play Millwall early in the 1992-93 season when I was living out of a backpack in London. The game was highly memorable because I witnessed this hilarious "rare blunder from the maestro himself" Glenn Hoddle.
I brought up both of these far flung events and also mentioned in passing that I was a West Ham fan in my email to him.
David's fascinating and informative response not only answered a number of questions, it also included some pleasant surprises and proved that the world is indeed small after all.
Thanks so much for your email. It brought back happy memories of that marvellous Swindon team. Interestingly, I was at the same Millwall game as you and remember Hoddle's slip well. He was pretty impeccable that season though, playing at sweeper but never actually making a tackle. That was probably the finest season in Swindon's history (or at least during my time), and we went on to win promotion to the top flight for the only time in our history with a nerve-shredding 4-3 win over Leicester in the play-off final. Australia's Dave Mitchell was a first team regular at the time. We've had a few Aussies down the years, but Massimo Luongo is probably the most high profile. 
So, as well as being at The Den on the same day, we were probably also at the same venue watching GYBE in Melbourne in 2013. I flew down to attend All Tomorrow's Parties where they played alongside Swans and My Bloody Valentine. Also, you mention you're a West Ham fan – I worked for West Ham for two years in the late 90s. I had a job in their ticket office. I have to admit, I was probably their worst ever employee, which is quite a claim when you consider that Scott Minto was on the payroll at the time.
I moved to Sydney in 2009, since when I have had to get used to the routine of getting up early/staying up late to follow the football. Major tournaments are a test of endurance, but the timing of the games at the recent World Cup actually helped to build interest in my cartoons. Most of my 'audience' is in the UK and Ireland, so while they were all sleeping, I was scribbling away to make the cartoons they would look at over breakfast the following morning. The whole thing really gathered pace during the tournament, with the highlight being the features in The Guardian and The Daily Telegraph (UK).
I'm a keen follower of the A-League as well – bucking the trend of most British ex-pats (I know a QPR and a Palace fan who are incredibly sniffy about the quality of the A-League, conveniently forgetting that I've seen both their clubs thrashing around in the English lower leagues in the very recent history). I get along to watch Sydney FC regularly, mostly by dint of the fact that they are my nearest team and there was no other option when I first moved here. Plus, it's a good way to catch up with friends and the novelty of being able to drink beer in your seat still hasn't diminished after five years.
Now with our curiosity well and truly piqued by our talented Sydney FC supporting scribbler, here are a few more questions to scratch our itch.
When did you start drawing football cartoons? Have you dabbled with other topics?
I can't pinpoint when I started exactly, but I do remember making football-related cartoons for the amusement of my friends at the age of about 15. This would have been around the time that I discovered Viz, which gives an indication of their general tone. Not long after I started submitting cartoons for various iterations of short-lived Swindon Town fanzines. Hopefully, the only existing copies are now rotting in damp garages.
The medium was drummed out of me at art school, where 'cartoon' was considered a filthy word; there was no harsher criticism you could give of a fellow student's work than to describe it as "a bit cartoony". I didn't really pick it up again until around 2007, when I drew something about the relationship between Chelseas's then CEO, Peter Kenyon and Roman Abramovich (who remains one of my favourite people to draw).
Until a few years ago I had been actively seeking commissions as an illustrator, with varying degrees of success. I was never really happy with what I produced though, often struggling with the task of interpreting someone else's vision. Eventually, I decided to set up my website The Sunshine Room and go back to that principle of creating cartoons to entertain my friends. The freedom to draw whatever I wanted reignited my enthusiasm.
When I set up the website, I had intended to draw cartoons on a variety of subjects, but I always ended up drawing about football, probably because it's the subject I'm most comfortable talking about. Since the Australian federal election last year, I have occasionally thought of creating some political cartoons, but I think I may be overwhelmed with the sheer volume of material available and would find it difficult to focus my rage. I'll leave it to the experts like Cathy Wilcox, Dave Pope and Glen Le Lievre. Plus, I'd never be able to produce anything as masterful as The First Dog on the Moon.
Who are your influences? If there was a Cartoonist's Desert Island Discs, which pieces would you take with you?
I'll be honest, I'm a fairly late adopter when it comes to cartoons. As I mentioned, Viz had a huge impact on me as a teenager. I remember skiving off a swimming lesson at school and finding a copy in the fenced off section where the shirkers and malingerers were made to sit while the other kids took turns to rescue bricks from the bottom of the pool. I sat and read 'Finbar Saunders and his double entendres" and laughed so hard I thought I was going to burst. So, seeing as I'll be unable to swim off the island, I should take a Viz annual.
As for individual cartoonists, in more recent years I discovered the work of Kate Beaton – the genius behind the historical cartoon website Hark, A Vagrant. Her work is funny and immediate and it doesn't matter if you aren't familiar with the characters or events described (I'll confess, my knowledge of Pre-War Canadian Prime Ministers is sketchy at best).
In terms of illustrative style, looking at the drawings of Joe Sacco and Jacques Tardi leaves me in a state of both awe and anguish. Their staggeringly beautiful renderings of often horrific scenes leave me with the feeling that I should just call it quits. Sacco's illustrations for the Chris Hedges book 'Days of Destruction, Days of Revolt' nearly had me sticking all of my drawing equipment up on eBay.
As for football-related artists, Richard Piers Rayner makes some breathtaking comic strips about the history of Middlesbrough FC, and it's possible to lose hours staring in wonder at the shadow work of the digital artist, Steve Welsh (another Boro fan – there must be something about the North Yorkshire climate that encourages people to stay home and make beautiful works of art).
I've always been drawn to the less reverential takes on the game though, and even though I have little emotional interest in the fortunes of Huddersfield Town, the cartoon match reports of HTFC World have satisfied my appetite for the cynical (there must be something about the West Yorkshire climate etc.)
On a more surrealist note, I envy the bold, free-flowing way in which Edward Carter works. His football-related art is always spot-on and I hope that I can one day make something half as decent as his cubist painting of Arsene Wenger's puffer jacket. He was also the creator of Shit Shot Mungo, a kind of anti-Roy of the Rovers. When Edward decided to take a few months off, he was generous enough to invite me to step in as caretaker manager and write a few Mungo adventures. He also provided the illustrations for Send Them Victorious, an amazing book of England match reports by David Stubbs, written from the perspective of an elderly colonial throwback. In terms of writing, there is no bigger influence for me than David Stubbs.
Do you listen to music when you draw? If so, it can't only be to GYBE?
Apart from that trip to Melbourne, I haven't listened to GYBE since the late nineties, when I thought that their dystopian symphonies would help me feel better about not having a girlfriend (I was wrong). I'd been wanting to do a drawing using the lyrics from 'Dead Flag Blues' for ages though, so I'm grateful to Roy Hodgson and the gradual eroding effect of de-funding grass roots football in England for allowing me to realise this vision.
When I'm drawing, I generally listen to podcasts (Mayo and Kermode's Film Review; The Bugle; Richard Herring's Leicester Square Theatre Podcasts; Danny Baker; various football stuff) or the radio; usually switching between FBi Radio and Triple J whenever their DJs use the word 'sick' to describe something in the positive.
However, if I really want to get into the zone, I'll listen to something instrumental with few lyrics; current favourites being Fuck Buttons, Forest Swords, Aphex Twin, and Locrain. You know, all jolly, up-beat stuff.

Finally, and probably most importantly for Sydney FC fans, how do you think the Sky Blues will fare this season with new manager Graham Arnold and 'marquee' giant striker Marc Janko?
I'm cautiously optimistic. Arnold has a great record in the A-League and seems like the kind of no-nonsense curmudgeon who can cut through some of the bullshit that seems to weigh the club down at times. As great as it was to watch Del Piero in a sky blue shirt, the concessions that were made to secure his signature (e.g. giving him a private dressing room at the training ground) were clearly to the detriment of team spirit. Arnold also seems to be doing a good job of winning over the fans too, which is the first thing any successful Sydney manager has to achieve – something that Frank Farina never really seemed to get.
On the pitch, I'm expecting things to speed up a bit. Again, I loved seeing Del Piero gyrate past clumsy Wellington Phoenix defenders and smashing in free kicks with his little black shoes, but he wasn't exactly renowned for his work rate. Brosque and Ibini will give the side more pace going forward and put a bit more pressure on opposing defenders.
I think a top four finish would be a decent achievement in Arnold's first season, but I wouldn't be a Sydney FC member if I didn't have wildly unfair expectations. Therefore, I'm demanding an FFA Cup Final win, followed by claiming the minor Premiership with maximum points by the end of January, giving the team time to ease to a Grand Final walkover.