FOR all that Australian Rules football is played, watched, discussed, argued over and thought about, it resonates surprisingly little in the wider culture. There are some poems by Bruce Dawe. Barely a box set of films – "The Great MacArthy", "The Club", "Australian Rules", one scene of "Funny People". One great work by Sidney Nolan ( 1946's "Footballer"), and the "Bush Footy" paintings and sculptures of Dinni Kunoth Kemarre and Josie Kunoth Petyarre, among other depictions in indigenous art. And – more to the point of this digression – not nearly as many songs as might be expected.
There's Mike Brady's "Up There Cazaly", obviously, which is a stirring and well-wrought modern folk ballad – but its longevity is at least partly due to a lack of competition. There are really remarkably few references to Aussie Rules football scattered throughout the Australian songbook. Weddings Parties Anything's "Under The Clocks" mentions going to see St Kilda get beaten – again – at the MCG, and a WPA b-side called "The Swans Return" was a lament narrated by a disenfranchised Lake Oval diehard. Former Redgum singer John Schumann had a crack with "One True Game", but it descends swiftly into John Williamson-via-C.J. Dennis earnest mawkishness. And there's at least one mention in a lyric by a touring foreigner, in Billy Bragg's homesick "Yarra Song" ("When the Saints take on the Magpies/Some day too far away/I barrack for St Kilda/In that funny game they play").
There have been, regrettably, the musical efforts of actual Aussie Rules players, among them Mark Jackson's "I'm An Individual", Warwick Capper's "I Only Take What's Mine", and the early-70s attempt to launch Peter McKenna as a carnation-in-lapel housewives' favourite variety-show crooner. All of which is to say an understandable nothing of the incredible 1981 compilation Footy Favourites, which included Tim Watson's version of "Ruby, Don't Take Your Love To Town", Michael Moncrieff's "Don't Stand So Close To Me", Mark Maclure's "Imagine", Trevor Barker's "I Can See Clearly Now" and David Cloke's "The Letter".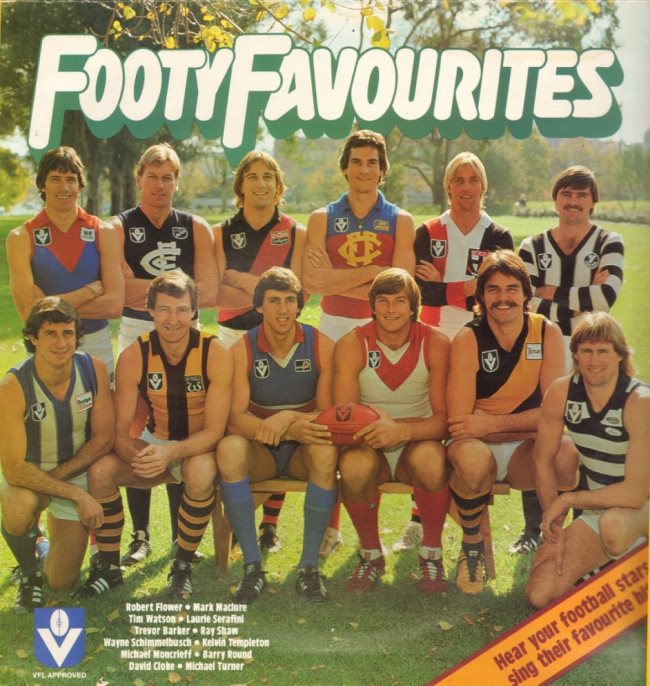 It's worth remembering, if ever you think anything will ever make any sense, that you live in a world in which versions of the same song have been sung by Richmond's 1982 Grand Final captain and Big Star's Alex Chilton.
But – "Up There Cazaly" aside – there have been weirdly few songs contemplating a single player. Archie Roach's "Colour Of Your Jumper" was inspired by Nicky Winmar's famous, defiant gesture at Victoria Park in 1993. Tex Perkins wrote a song called "Jesaulenko, You Beauty" for "The Marngrook Footy Show". Former Models singer James Freud, released a strangely beguiling album of football-related songs in 1999, which included "One Tony Lockett", "Wanganeen", "Voss The Boss" and "Rocca Brothers Rock". We should also acknowledge TISM's "I Rooted A Girl Who Rooted A Guy Who Rooted A Girl Who Rooted A Guy Who Rooted A Girl Who Rooted Shane Crawford", though this is, properly speaking, a meditation on fame and memory, rather than the game itself.
All of which is by way of preamble to announcing that the meagre canon catalogued above may now be joined by "Bob Chitty's Blues", which appears on the new album by my own band, The Blazing Zoos. It is an obscure selection of subject matter by any standards, being an imagined interior monologue from the perspective of Carlton's captain in the 1945 Grand Final – a fixture recalled by history, generally with a shudder, as "The Bloodbath". It is, however, an altogether recherche choice if your band generally plays, as mine generally does, to smallish crowds in London, few of whom have the least idea of, or interest in, who Bob Chitty was.
The song occurred as a by-product of a future book on Australian football which I was researching – and by "researching", I mean "allowing myself to be sidetracked down pretty much any off-ramp or tributary to the actual task at hand that presents itself". I had heard, vaguely, of Chitty, and of "The Bloodbath" – but I didn't know about Chitty's brothers, which was what set the song in motion. While Bob had stayed in Melbourne playing football during the war, four of Mrs Chitty's sons had gone overseas. One died at El Alamein, two were taken prisoner by the Afrika Corps, and then there was Peter Chitty – an extraordinary hero who won the British Empire Medal for carrying a malaria-ridden comrade along the Burma Railway, as well as the only ever "Changi Brownlow", for being the best player in the league convened by Australian PoWs captured when Singapore fell.
The Blazing Zoos are a country band, more or less, and manhood and what it means is a recurring motif of country music. Bearing in mind Martin Flanagan's thesis of "The Bloodbath" – that the players, who mostly hadn't served, were trying to prove something to the crowd, who were mostly men just back from serving – and working off a riff which I was hoping would land somewhere between Lynyrd Skynyrd's "Sweet Home Alabama" and Steve Earle's "Copperhead Road", I excogitated a self-justification for Chitty's behaviour: a determination not just to demonstrate his own warrior credentials, but to win recognition at one remove for his family's sacrifice. I've no idea if it's accurate or not: he might just have enjoyed thumping South Melbourne players.
All of which is lost on London audiences, obviously, though I make intermittent attempts to explain some of the above when introducing it, over squalls of feedback deliberately induced by my impatient bandmates. But sometimes you get lucky. Introducing it at a gig earlier this year, I dedicated it to another footballer named Bob – Murphy, who'd just done his knee in the game I'd watched the morning before the show, London time. This was answered with cheers of what sounded suspiciously like recognition. At the back of the room, it turned out, was a cohort who were not only from Melbourne, but Bulldogs fans, all of whom subsequently bought copies of our fine new album, Chocks Away.
I can think of no better demonstration of our song's instant appeal to those who know and love the game. I'm pretty sure we're free on Grand Final day, and we're cheaper than Meat Loaf.
When not playing in The Blazing Zoos, Andrew Mueller is a journalist and author based in London. His most recent book, It's Too Late To Die Young Now: Misadventures in Rock and Roll is available through Picador.
You can buy, share and listen to the album Chocks Away by The Blazing Zoos at Bandcamp.
You can also listen to "Bob Chitty's Blues" on Spotify.
*Feature photo of Bob Chitty courtesy of Charles Boyle Images