A stream-of-consciousness mind dump from Ange Postecoglou, Socceroos coach, during Australia's 4-3 loss against Ecuador in a friendly played at The New Den, London.
(This readout has been achieved using NSA intercepts & experimental mind meld technologies yet to be fully scientifically tested. Results may not accurately reflect the actual thoughts of the subject.)
Yeah-nah…one training session, they expect me to perform miracles after one training session.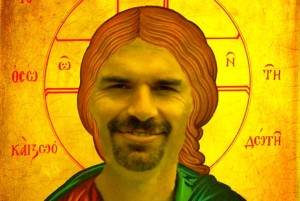 I walked over the bog at the posh school in Wimbledon but everyone else sank in the black Thames River mud…heads will roll like John the Baptist for this.
Ange Postecoglou on Socceroos' waterloggate: "It won't happen again. It's not good enough"

— David Davutovic (@davutovic) March 5, 2014
Millwall…the Isle of Dogs…what a miserable place…bloody cockney accents…where's Eccydor…he's a good, he's a good, his name is Curtis Good…playing well son…everyone just feed Timmy (Cahill)…the lion is back in his Den…Timmy's making mincemeat out of them…great ball Tommy (Oar)…that's 3-0…how easy is this…even the kid timed it well a few days ago.
Ante!, Ante!(Milicic)…where's my Cuban cigar?
Bloody hell… Kevin (Muscat) texting me again, "ANGE, 4-2-2-2 AIN'T WORKING. WHAT'S PLAN B? REPEAT, WHAT'S PLAN B? "
(Half time Score: Australia 3 – Ecuador 0)
Matty (Ryan), good job… you're my number one…time to see what Mitch (Langerak) is made of…OH FUCK…this ain't Muay Thai Mitch!!…down to 10…and WTF does Brad (Jones) think he's doing!! What's Eugene (Galekovic) doing texting me? "GOTTA PLAY REGULAR FOOTBALL BOSS, WITH LOVE YOUR NUMBER TWO"…  smartarse.
Shit, were getting carved up like a dog's dinner…Curtis is crocked…need some fresh legs…Wilko (Alex Wilkinson) you're on…don't do anything stupid…shit…clear the ball Wilko!…you're not bloody Maldini!
OH FUCK!
(Final Score: Australia 3 – Ecuador 4)
Now why the fuck is Lucas (Neill) texting me…
Don't you forget about me
Don't, don't, don't, don't
Don't you forget about me
As you walk on by
Will you call my name?
As you walk on by
Will you call my name?
When you walk away
Or will you walk away?
Will you walk on by?
Come on, call my name
Will you call my name?
I say, la la la
When you walk on by
And you call my name
Yeah-Nah.
Hang on…what's this….another message… who from this time?
"LOOKS LIKE YOU NEED ALL THE HELP YOU CAN GET FOR THE WORLD CUP. I CAN GET MY MATES TO HACK INTO THE CHILEAN, DUTCH AND SPANISH COMPUTERS. POP BY THE ECUADORAN EMBASSY AND COME SAY HELLO. PLEASE DELETE THIS MESSAGE AFTER YOU HAVE READ IT, JULIAN"